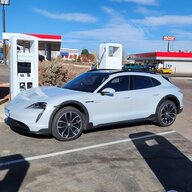 Joined

Jun 17, 2020
Messages
Reaction score

273
Location
Vehicles

2020 Taycan 4s, 2019 e-hybrid Cayenne

I picked up my 4s in May, and immediately had multiple issues that required the vehicle to be in the shop for over a month. Like many of you, I had 12v battery issues. For some reason the new battery did not correct the electrical faults I was receiving, so I escalated to Porsche NA when my dealership could not figure out what was wrong. In reviewing the diagnostic logs, the senior tech's in Atlanta identified a problem with my DC/DC converter, and ordered a replacement, which was installed almost two weeks ago. The car worked great for the first few days, so I decided to take a long road trip to visit family, and work remotely for 10 days.
I drove the 4s from Denver to Houston - with pit a pit stop in Oklahoma City each way. It was one of those road trips where everything aligned perfectly - the car worked great without throwing a single fault, and the Electrify America charging network was flawless. I saw phenomenal charging speeds and working chargers at all stops.
It was one of those road trips that really restores my faith in the vehicle, and gives me hope for Electrify America moving forward. Driving through western Kansas, Oklahoma, and Texas is certainly not interesting since it is all straight, long, boring highways, but the Taycan is a great highway cruiser, and when I stopped to charge I never had to wait, and always got +150kw at the beginning of the charge, 150kw speeds during the middle of my charge, and 100kw speeds when I was at 70% or 80% of battery. Ironically, the only charging issues was when I stopped Flagler, CO on my way home and the Porsche Charging NA app failed because of poor cellular service, so I had to start the charging session with my EA card set up in my iPhone.
That is the weak link in the charging set up - if you are at a charger in a remote location with poor cell phone reception, the Porsche Charging NA app is useless to initiate a charging session.
Sorry to bore everyone with with details of my extended road trip, but there is light at the end of the tunnel if you like to road trip in your Taycan. I finally got my electrical issues corrected - with the help with the master techs at Porsche NA in Atlanta - and proves the car is an amazing highway cruiser, amongst other things. The Electrify America charging network, when working properly, can truly get you back on your journey after a 20 minute high speed charging session.
I enjoyed my road trip so much that I am planning to drive to LA for a 10 day visit in the middle of October. That drive will be much more scenic that driving through Kansas, Oklahoma, and Texas, so looking forward to that. I also loaded a couple of pictures so people could see some of the initial charging speeds I hit with EA chargers, and a picture of the stats of my drive from Oklahoma City to Denver yesterday. My consumption was brutal since I was facing 25mph to 30mph head winds in western Kansas, but I drove 700 miles in one day and the car is comfortable enough that you do not feel beaten up at the end of an extended drive like that.