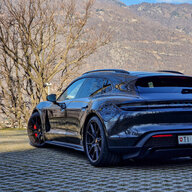 First Name

Dave
Joined

Dec 4, 2022
Threads
Messages
Reaction score

27
Location
Vehicles

911 992 S, GTS ST

Hello All, I've been following this forum silently for the last months when ordering my CT 4s, finding tons of useful inputs.
My CT 4s was supposed to arrive this month but dealer advised me about general delays and new ETA not before May -_-
I decided to cancel my order and get this ST GTS (stock car just arrived last week) after testing it for few hours.
I previously owned different M's Bmw and my last car was a 992 2s. When I tried a CT 4s last year I was impressed about handling, grip and power..and of course all the other nice feelings that you can't find on different car brands.
Cons regarding my ST GTS after 2 days:
InnoDrive and road signs recognition doesn't work well in Switzerland (not part of EU and some road signs might not be "standard")
Lower than my 992 and in Range Mode/Low setting, easy to slide on some speed bumps
Pros
Feels faster than the 4s, just few hp more but I guess torque makes somehow the difference with EVs
Average consumption around 20,5kW/100km when driving "normally"
Great interior details with GTS interior package
Questions for the experts:
What's the difference between ECO and ECO+ (ventilation/AC)?
Are all the new Taycan's 21' delivered with GoodYear's?
Approved 21' Winter tyres are still not available, correct? What about All seasons?
Thanks and cheers from Switzerland