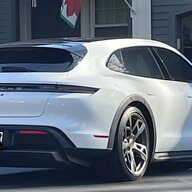 Joined

Jan 19, 2022
Threads
Messages
Reaction score

657
Location
Vehicles

Panamera Sport Turismo 4S

So I have had my CT 4S for a little over a month now and figured I would do a review of this model and a few of the features I find notable for one reason or another. Taycan is my 3rd Porsche but my first EV. This is my daily driver and it's primarily used for commuting (kid commuting being the #1 task). My goal with the build was to have as wide a range as possible from luxury commuter to a focused drivers car (albeit not very often). I deal with the full range of weather and we have the roads in the Northeast of the US (potholes, ruts, etc) to show for it.
I find the CT 4S to be comfortable for daily use. The highlights are the ride quality, handling and power. I find it incredibly quick, precise, and confidence inspiring on public roads. (It is possible that a CT4 would have been sufficient to cover my needs.) I also find the trunk size and opening good for carrying bags, equipment, instruments, etc. The major areas for improvement for me are the interior space (front/rear legroom) and the PCM….primarily because I find myself having to interact with it too much for simple tasks (especially listening to music). Hopefully Porsche will find ways to simplify this in future.
As for notable options, I would highlight the following:
Sport sound - surprised that I never use it. Thought I would.
PDCC - really enjoy how it aids in ride quality. Probably helps at the limit but I haven't gone 10 out of 10 yet in the bends to confirm that end. It seems to add a level of sophistication to the way the suspension is working.
PTV+ - If it's doing something, I cant tell. Perhaps more noticeable at the limit of grip…
RAS - helpful but still getting used to it. Possibly adding to the sense of precision at higher speeds but hard to pinpoint to just RAS.
Insulated glass - I do suspect that it does hurt reception a bit but I like having the extra thick glass on a frameless door.
Red interior - love it.
Ambient lighting - I like the dynamic lighting much more than I thought I would.
Sport Chrono - Did not have it on previous cars so I decided to try it. I forget to use it because the car is so good in normal mode. I like the compass a lot though.
Bose - Minimum quality sound that Taycan should come with standard IMHO. Volume and quality is ok. Sound stage is poor.
GT Steering Wheel - the smaller size was instantly noticeable. I thought I didnt like it at first but it's good now…..perhaps better than good.
Illuminated door sills - Pretty much as expected but may not have been worth the coin.
Massage seats - better than I expected. Got them because I thought my wife would appreciate them. I use them almost as much as she does.
I get 200-215 miles of range @ 85% in about 32F average temps. I charge with an 11Kw charger in the garage 2-3 times per week. I have had zero charging issues.
The car is fully wrapped with PPF and coated and has been easy to maintain. I am also pleased that brake dust associated with the standard brakes is minimal. During weekly maintenance, I find that I cleaning up more road film than brake dust and the caliper/wheel combo provides sufficient clearance to keep the wheel barrels clean.
Issues:
Trunk rattle - I think I have this solved.
"Loading" message on PCM periodically - not sure if this is a real issue but it can be annoying when it goes on for 30 mins or more….although I can still use all of the functions.
Folding mirrors - once the mirrors wouldn't unfold when I came back to the car and started it. Weird…only happened once.
Summary:
To an extent, I do feel like an early adopter in daily use of the Taycan. Whether real or perceived, the sense that I am participating in an experiment is always in the back of my mind. The "experiment" is actually going really well so I have to give Porsche kudos thus far. I am hopeful that this will feel less so in future. A car this good, with so much new tech, that happens to be an EV, is really impressive on Porsche's first go of it.