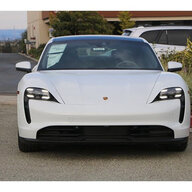 Joined

Dec 3, 2020
Messages
Reaction score

955
Location
Vehicles

2020 Taycan 4S

My 2020 Taycan 4S with P+ battery has found a new home and I moved to a 2021 Ford Mach-e GT.
Here are my thoughts and comparison of these two cars
The comparison is based on my experience with my cars, and it does not apply to all Taycans and all Mach-es, or all owners.
Taycan wins these categories
Range: I could get 260-300 miles on the Taycan depending on the weather easily beating the EPA estimate. I haven't driven the Mach-e a lot but its range seem to be around 250miles, so less than EPA. (Btw both have 20 inch wheels but the Taycan has wider tires).

I believe the difference is mostly from highway driving where the Taycan shines with its 2-speed transmission. Also the lower drag coefficient factor and the heat pump help. .

DC fast charging: Taycan is a king (when EA stations work). It charges fast even beyond 85%. The Mach-e drops to 12KW after 80%! Ford plans to make it better with an OTA, so let's see.
Handling: Probably unfair to compare a sedan with summer tires against an SUV with all-seasons. The Mach-e handles well for a heavy SUV but it is nothing special.
Ride quality: Porsche's air suspension is amazing. My Mach-e has a steel suspension which is good but again nothing special. Porsche is noticeably better. If you spec the Mach-e GT with the Perf package you get MagnaRide which is adjustable and closer to Taycan's. If it wasn't for the car shortages I would have gone for that option.
Steering feel: Taycan's steering is probably as good as it gets for an electric steering rack. The Mach-e is good but not at Porsche level.
Tires: The Taycan's Michelin 4S summer tires were great. My Mach-e has Continental All-Season and they are underwhelmed by the power of the car. There is wheel spin when you push the pedal hard so you cannot put down all that power. The GT Perf package adds summer tires to the Mach-E and I heard that it makes a difference.
Instrument Cluster: Taycan's instrument cluster looks great. The Mach-es is very basic, small, non-customizable and it feels like they just had to add something there.
Exterior Appearance: In my opinion the Taycan is the most beautiful car on the street. The Mach-e GT in blue with glossy black accents looks very nice but the Taycan is a class of its own.
Brand name/exclusivity
Service intervals: The Mach-e has a scheduled maintenance (just inspections) at 1 year which is a bummer. Taycan's first scheduled service is at 2years. Cost-wise the total cost for the Ford might be cheaper even with the extra visit, but still I would prefer if I did not have to go.
Mach-e wins these categories:
Throttle Response: The Mach-e feels more responsive than the Taycan 4S. It feels like a Taycan Turbo. Even on the soft mode, if you press the pedal it pulls really hard. The Taycan has a sluggish throttle response and even when you floor it does not have the same immediate response. The GT has a lot more torque according to factory specs so that might be the reason.
Practically: The Mach-e has more space, more legroom and headroom, a usable rear bench that can fit 3 people and a more accessible trunk. It is also much easier to get in and out.
Easier to drive around town: MAch-e has bigger side mirrors and better all around visibility making it easier to maneuver and park. Mach-e's camera is also very good, while the Taycan's camera image is distorted and shows inaccurate distances.
Infotainment system: Mach-e's infotainment is more responsive, the maps load fast, the phone connects immediately and so far I have not seen any of these annoying bugs that the Taycan had. The Mach-e also has wireless Android Auto which is great.
Interior Build Quality: This is surprising but true. The Taycan had rattles from everywhere (door panels, speaker covers, driver seat, b-pillar, EVERYWHERE). It was so annoying. The Mach-e has no rattles so far and it seems to be well built.
Charger: Ford Mobile charger is more "mobile" than Porsche's PMCC and it does not overheat. It is a simple charger, no screen, no settings which is good. Less chance of problems. Btw the pigtail is AWG 8 which is more appropriate than Porsche's AWG 10 which overheats. Unfortunately the Ford charger cable is only 20ft long, not the standard 25ft.
Other: The Mach-e has physical Homelink buttons which is great and you can actually program more than one door!! Yay
Value: At about half of the 4S price you get a bigger battery, same or a little more power and a well built car.
Cannot compare yet:
Overall software quality: Taycan has several software issues (12v drainage, automotive power loss while driving, many small annoyances) and Porsche does not address them as fast as I expected. Many bugs are still there. Although I have not experienced any bugs on the Mach-e I should wait a few months until I declare it a winner.
OTA updates: I have only seen maps and weather/calendar app OTA updates in the Taycan which are close to useless to me. Every major software update required a visit to the dealer. I have heard that some Mach-e owners received OTAs and there is a rumor that Ford is planning to release an OTA that will increase the usable battery by 3KW (~10 miles range extra) and improve the DC charging speed after 80% but until I see it I don't believe it.
Phone as a key: Mach-e supports phone as a key. I read mixed reviews about it and I haven't tried it yet. But if they make it robust then this will be a win.
Highway driving
City driving
Last edited: