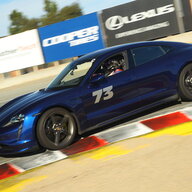 First Name

David
Joined

Jan 28, 2019
Threads
Messages
Reaction score

8,025
Location
Vehicles

Taycan, Cayenne Hybrid, 911(s) GT3/Convertable

1st session completed - interesting data - more later today…
UPDATES
Here is lap data from the 1st session - GoPro sucks - GPS doesn't work through the insulated glass - so I don' thave lap data (speeds and such) - lap times are approximate - analyzed from time stamps on the video - they may be off by as much as 1/2 a second…
key highlights so far:
best lap time w/Sport Crono (manual timing) - 1:45.xx
morning session of 7 hot laps + 1 out lap + 1 in lap - 53% battery used (98% out to 45% in)
garage 30 amp NEMA 6-30 plugs - (24 amp charge rate - 4.47 kW) return 5-6% battery/hour
2nd morning session was faster - (49% - 17%) - 1 out lap - 3 hot laps - 1 in lap
17% to 14% (3% consumed) to get to fast charger in Seaside (EVGo 50 kW) - charging now
I'm on all-season factory OEM tires - I know I know - I plan to redo with summer sport tires when these wear out (I'm working on wearing them out today)
Taycan is pretty good on track for 5,100 lbs sedan - but it's no track car (any more than any big 4 door sedan)
VERY DISAPPOINTED - car was way way way down on power in morning session after hot lap #6!!!! About the same number of laps I get with my Model 3 at Laguna before power reduction

Battery temperature leaving hte garage before session #1 was 72F
returning to garage battery temp was 132F - car was way way down on power
ambient air temp this morning at laguna was 50F or less (46F for 1st session)
6 hot laps = 12-15 minutes of hard driving at laguna - so it's more than nurumbergring lap (8 minutes or less) - but so much for Porsche's vaunted 800V and improved battery cooling system - the car can _NOT_ run flat out for a full 25 minute track day session - I had to come in at 18 minutes or there about because I was sooo down on power I was a hazard on track - 2nd session went better, but only did 4-5 laps because I hit 17% battery after 4 laps (no fast charging at Laguna)
I'm sitting at EVGo charger in Seaside right now - charing for afternon
consumption is extreme - more than 50% battery for one abbreviated session (7 hot laps) - hard to track this vehicle without fast charging at the track - a full 25 minute session would use approximate 80% battey in my opinion but you can't run a full session of hot laps becuase of power reduction due to battery thermals - I'm guessing it's battery thermals - but the cqr threw no warnings, just reduced power when on full throttle…
after a 1 hour cool down - battery temp dropped to 81F in the garage - returned out for 2nd session - full power was restored - did a 1:45.xx lap 2nd session - but had to come in early due to < 20% battery - needed battery to drive to fast charger 8 miles from track.
video uploaded soon with 1:46.xx lap time from 1st session - I'm still editting hte 2nd session video while I'm charging.
car is good, but has all typical EV problems for track use - very very high consumption, and no stamina to run a full 25 minute track session at full pace.
I ran the following sessions
session 1
session 2
skipped - session 3 - fast charging run @ EVGo in seaside, Ca -

leave track @ 17% SOC
arrive EVGo @ 14% SOC
2 45l minute sessions @ EVGo get back to 92% SOC
arrived back at track @86% SOC @ 1:20 pm

session 4 - 2:05 PM - 1 out lap, 4 hot laps, 2 cool down laps - 1 attempted hot lap but battery was too warm @ 132F - car had only 40-50% full throttle

session 4 out on track at 88% SOC - back in at 34% SOC

session 5 - skipped - no enough SOC % to do a meaningful session - and if I pack up and leave now I can get home with 34% battery no problem no more fast charging required.
We're done for the day - GoPro thinks it had GPS signal, maybe we got some data - we'll see
more thoughts later - after I get home and decompress
good car, handles great for hit's size and weight, nanny's are soooo subtle - full throttle consequence free anywhere anytime - brakes (PCCB's are awesome) - but like all EV's I've experienced it's not up to the task of a full 25 minute session of hot laps - but I"ll enjoy the drive home!!!
need fast charging at the track at least 125 kW to deal with the consumption issues
car is in one piece
driver is in one piece
I had a super good time!
car is good for about 12-14 minuted of flat out driving (which is about 2 nuemburg laps) - after that it needs a rest - recovery is about 1 hour of down time.
Last edited by a moderator: