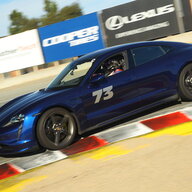 First Name

David
Joined

Jan 28, 2019
Messages
Reaction score

3,774
Location
Vehicles

Tesla(s), 911 GT3, Boxster S, Bolt, Taycan, Cayenn

Vehicle dropped off: Tuesday April 20th - to begin update on April 21st
Loaner provided - Cayenne Based with some options
Vehicle was "doing the update" from Wed. until Friday - Service said they had no issues applying the update
Car picked up Monday April 26th (I was out of town for pickup)
So far so good - observations in no particular order
I lost no settings - everything was as I left it when I dropped the vehicle off
wireless CarPlay "just worked" - no phone re-pairing was required
smartlift is funcitonal
homelink still functional
custom button settings (the 2 diamonds) are still set as I left them
PCM seems snappier
Porsche Navigation has some nice new minor touches - nothing in particular, but it's different/improved
Charging via PMCC now starts faster after plug in
Charging via Tesla Gen2 Wall Chargers starts faster after plug-in and properly managed variable AMP's for dynamic loads
changes to charging timers seems to have less time with the spinner "on screen" post change
changes to charging profiles seem to have less time with the spinner "on screen" post change
no visible improvement to charging time/profile functionality or UI
ApplePod Casting is now supported
AppleMusic now seems to remember where you left off rather than starting a play list over
PMCC for MY'20 Taycan does _NOT_ show current charing percentage

I have toggled PLC to vehicle on & off - no difference

PMCC for MY'20 Taycan does not ask me to "add" my vehicle to the list so you can skip the PIN code entry
Setting up "individual" drive mode (range, normal, sport, sports+, individual) now offers you the ability to save Sound & Regen settings - this seems new to me but I'm not sure
I can still get in the car and touch he brake and just start driving without explicating touching the "ignition/power" button
car was received with no pending PCM updates - I have a question into dealer as to if they applied all the updates post "install" - still waiting for answer - at this time I have no software updates pending according to PCM user interface
WiFi hotspot still does not allow me "share" the vehicles hot spot
PCM calendar application seems to pull data from my iPhone, but is painful slow and makes it unusable - also seems to be "off" by one day - more investigation required
initial drive after pickup seems to use more power - but not enough driving to tell if this is just one time or a new normal - stay tuned
vehicle's interactions with external AC chargers is "snappier" - with in car charging user interface seeming to be less confused and quicker to adjust to charging circumstances
my PMCC was also update - but honestly I have no idea what changes were made or how to tell if I have the update.
Dealer Service gave the vehicle back to me with no notes or comments other than it was completed and there were no issues during the update process.
I'll post more information once I have it - so far so good but only one 45 mile drive so far.