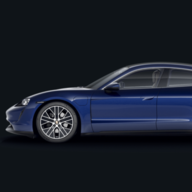 First Name

William
Joined

Feb 20, 2022
Threads
Messages
Reaction score

34
Location
Vehicles

21 Macan S | 19 Range Rover | 22 Taycan (on order)

After a 7 month wait, and checking Track Your Dream every day, I finally picked up my 2022 Taycan RWD this week. This is my 4th Porsche but my 1st EV ever. In fact, the Taycan is only the second EV I've ever driven. I test drove a Tesla Model S which was fast, but I found the fit and finish extremely poor and the body style is over 10 years old now. I got the standard Taycan with a few upgrades - the premium package, turbo rims, upgraded performance battery plus, electronic sports sound etc, but wanted to keep the price under $105k which was important because this car is designed to save us money on running costs since we also daily a supercharged full-size Range Rover which drinks premium gas like it is going out of style, especially here in California where premium has hovered at $6.89 a gallon for weeks. I should also preface that we live in rural wine country and do not have a charger at home (yet) so we are very much guinea pigs for early electric vehicle adoption in this type of community. We have it all priced out but we are going to see how we get on with the EA network and local chargers before spending $2,500 on that.
Initial thoughts on the base Taycan from 72 hours and 200 miles of driving:
Positives
Feels Expensive: With upgraded wheels, Gentian Blue and the chrome window trim, nobody would know this was the "cheap" model. It really looks every part a $100k+ car.
Porsche Magic: Genuinely feels like a true Porsche, even in the twists and turns - and seeing the headlight bulges on the hood reminds me of my old 991.
Welcome to the Future: Honestly feels like I've driving something 20 years in the future, especially at night with Ambient Lighting and the Electric Sport Sound.
Gentian Blue: I was nervous that it could look a little purply, but in most conditions it's more like a true royal blue and gets a lot of compliments.
Neutrals
Size: It's much bigger than I remember when ordering. It's actually almost the exactly the same length and width as our full-size L405 Range Rover. I don't mind this as it feels substantial and has a strong presence on the road. Some living in cities might not care for the size/length.
Attention: I didn't buy this for attention but it definitely turns heads, especially in our small town.
Charging: So far, uneventful. Used the local Electrify America station 20 miles away for a full charge and it worked just fine. Really quick too. I went over the 30 minutes free and it cost me a whopping $1.15! I topped up at a local EVgo station 10 mins away in town and it cost $9 for just 12% of charge so will be thinking about a subscription for that one.
Sunroof: It's probably a good thing that it is so tinted since summer temps here are 90f+, but the full glass effect wasn't as impressive as I thought.
Negatives
The Shifter: I know it's early days, but the location of the shifter (hidden behind the steering wheel) and separate P button are a bit of an oversight. Twice now I have pushed the shifter up thinking I'm going into P like you would in a traditional PDK Porsche, but it's actually it's still in reverse. It's trial and error and I'll get used to it, but can imagine someone backing into something.
Regen Braking: I don't like the feel of the car with the regenerative braking turned on - it's not just the braking, the whole car feels more jerky and sluggish. That will stay off.
Limestone Beige: Our cars are always dark blue over tan, but Limestone feels a little duller/grayer than I remember when I ordered. If money was no object, I think I would have gone for the cream-colored Olea leather instead.