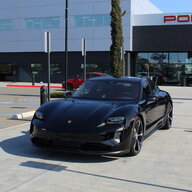 First Name

Richard
Joined

Mar 13, 2023
Threads
Messages
Reaction score

27
Location
Vehicles

'23 Taycan GTS, '21 911 Turbo S (992)

The Taycan GTS has exceeded my expectations, particularly in areas of cornering stability and, of course, acceleration. It's absolutely true what people have written about the Taycan shrinking around the driver. Our other car is a 911, which is a pretty good benchmark, and even though the Taycan is about 1,400 pounds heavier that our 911, the Taycan's torque and the GTS-tuned suspension seem to erase a lot of that weight difference. I spec'd this as a sport sedan with RWS, PDCC-Sport and PCCBs. I originally spec'd the interior GTS package but found that with rear 2+1 seating, only the outboard seat belts would be red or chalk; the middle one would be black, so I went with black leather which allowed me to get ventilated seats.
I enjoyed the PEC (L.A.) delivery experience. The guys doing the in-service were great - good overview, really into the car's details, and they took photos both in the delivery area and while I was on track. I drove a Taycan Turbo S on the track as they didn't have a GTS in the fleet. My instructor had raced Formula Fords and is moving to Porsche GT3 Cup racing. On the track, he first rode with me for a few laps, which was good for fine points of instruction even though I've done track work in the past, then we did lead/follow. He was fast, which was great, and I was very close to my 10/10ths but he was smoother. I did the Turbo S/GT3 experience in the past - once with the 991.1 gen cars and last year with 992s, and this Taycan experience was similarly engaging. At a Porsche Drive Event in 2021, I autocrossed a Taycan, and it was amazing in that setting, as well. In both of these experiences, the Taycan was never difficult to control and placement on the track, power delivery and braking were superb.
The experience included a lunch for my wife and me in the 917 restaurant before the reveal and the track experience. There were additional souvenirs like a Porsche crest key fob, color-coordinated M&Ms, a Porsche CF pen and Porsche crest "highball" glasses. Nice! The Taycan experience has just about doubled in price, which is unfortunate. That said, if I were ordering a car from a dealership that was not near my CA home, I would do it again.
Here are a few of the many photos that were taken by the PEC staff members:
Just after the cover was pulled off.
Post-delivery. Positioned for the drive home.
I could not wait to hit the road - but it was rush hour on I-405 and traffic was crawling.
Approaching the R-L-R chicane at the end of the back straight in the Taycan Turbo S.
A few of the souvenirs of the delivery experience.