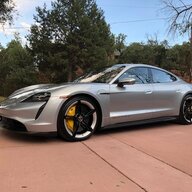 First Name

David
Joined

Sep 11, 2019
Messages
Reaction score

424
Location
Vehicles

Porsche Taycan Turbo S, Audi E-tron

The week of October 5th I'm going on a 5 day road rally through the mountains of Colorado. All backroad driving. It's organized by my brother and will include 10 Ferrari's and 1 911. I will obviously be the only electric car on the rally.

I've spent the last week or two mapping out all of the charging locations and putting together a plan for charging every day. Because most of the time will be on back roads there aren't a lot of high speed charging options, so it's been interested trying to get this to work.

As a test for the upcoming rally I decided to drive to the first charging stop this morning to see how much battery would be used and how well the first charger would work. It's a Chargepoint DC charger rated at 62.5kW. I used A Better Route Planner and with the standard settings it estimated I would arrive with 45% of the battery remaining after 113.5 miles. When I got into the car this morning and plugged in the destination Porsche estimated I would have 55% of the battery remaining. I'm driving a Turbo S with factory all-seasons on the Mission E wheels.

My starting elevation is about 6400ft and the elevation at the half way point (charging location) is 7100ft. I drove over two mountain passes both around 9500ft in elevation. It was a mix of typical mountain roads with fairly tight corners and speed limits between 40-60mph and two longer open road sections with 65mph speed limits. Spirited driving in the mountain sections in Sport Plus mode and 10-15 over the speed limit (staying with traffic) on the open road sections in Normal or Sport mode. Temps were about 40-50F on the way out and then 60-70F on the way back. I used the heated seats and steering wheel when it was cold and the A/C when it warmed up.

Overall I average 332 W/mi and used about 90% of the battery to travel 227 miles. That equals about a 257 mile range. A nice surprise when I got to the Chargepoint charger, even though it shows 62.5kW on Plugshare I was getting 85kW the entire charge. I added about 15kW then turned around and headed back.

The good news is the efficiency was much higher than expected. I arrived at the charger with 60% of the battery remaining. 5% better than what Porsche estimated and 15% better than A Better Route Planner. This is giving my a lot more confidence on the upcoming rally.

I'll post a separate thread to document the results of the 5 day rally. I'm planning on keeping track of all the data plus I'll share any charging issues etc. I'll also post some pictures/video as the scenery should be epic.