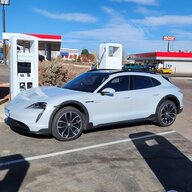 Joined

Jun 17, 2020
Messages
Reaction score

273
Location
Vehicles

2020 Taycan 4s, 2019 e-hybrid Cayenne

I drove 460 miles from Denver to Richfield, UT today with a 40lbs eMountain bike on the Porsche roof rack. Even though I picked up my 4s in the beginning of May, I am still experimenting with how it performs in all kinds of conditions. Today's drive was done on 20" Pirelli winter tires, and temps were anywhere from 20 degrees at higher mountain altitudes to 50 degrees in lower elevations in the afternoon. While in Colorado, I drove over two very high mountain passes, and in Utah there is one mountain range that peaks at almost 8,000 feet, so there was lots of elevation gain today.
I expected to experience less efficiency with the colder temps, and a size XL mountain bike on the roof - and the numbers bare that out. I would say that the vehicle was 15% to 20% less efficient due to the cold, and the altered aerodynamic profile of the vehicle.
This was how I left this morning.
This was my first charge stop in Frisco, Colorado.
A couple of scenic shots from my drive today.
I surprised was the charging speed I was able to achieve when it 30 degrees. Vehicle hit 200kw when I pulled in with 25% battery.
I was able to add 50kw in a little more that 20 minutes in 30 degree temps. Not bad at all.
Final stats for my drive today. 47kwh per 100 miles is about 13 kWh more than what I did on this drive in early October with no bike, and 35 to 40 degrees warmer temps.
I am by no means a professional when it comes to understanding efficiency, or breaking down efficiency metrics, but the car handled very well today concerning the altered aerodynamic profile, and the colder tempetkres. As with any EV, these are the two greats impacts on range, so if you are going to make long distance drives in the winter make sure you charge a little more than what the vehicle suggests.
Let me know if you have any questions, and I will try to answer.