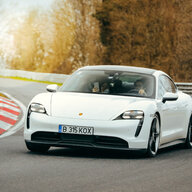 First Name

Ciprian
Joined

Jun 29, 2021
Threads
Messages
Reaction score

116
Location
Vehicles

Taycan RWD PB+

Hello there!
I feel like its appropriate to share my latest trip through Europe.
Car: 2022 RWD PB+ Sport Chrono, 21" wheels.
Started in Adjud, Romania (town I live) and my final destination is Nürburgring, Germany 🥹 (yes, I did a lap in this car, next post will be about that experience alone)
the trip started with me 100% at 5:00AM. Range was about 380 km when I started.
First stop was 170km away, arrived with 40% but did a top up to 75 ish to get me to my next destination (20 min wait)
next stops were 200km away each, 130-140km/h highway speeds. 200km, 2 hrs drive, 20 mins charge times (always arrived with 15%ish and always charged to5-80%).
Only one stop on the way to Budapest was slower (50kW MolPlugee, my bad for not researching properly).
Hungary, Austria, Germany Ionity used, Porsche 0,33€ per kW.
Total trip of 4500 km costed me not more than 360 euros (not including tolls).
on my way to Nurburgring, I stopped at Ameron Motorworld Hotel which I HIGHLY recommend if you fancy seeing your car from your bed, then in Stuttgart I got noticed but no other than Mr Martin who is Factory Tour guide there. He was amazed that I use the car that he presents how it should be used and let me do some pics under Porsche Museum entrance (please don't tell him I told you that).
Nurburgring experience was…. I'll explain it later.
All in all, the trip went 99% flawless, only one time PCM crashed.
if you want to see the trip, I also did video with all the experiences, all the driving, all the charging. You can whatch them here:
Day 1:
Driving Through 4 Countries In My EV | EuroTrip 2023 - Day 1
Day 2&3:
Blasting Through Germany! 2023 EuroTrip - Day 2 & 3
Day 4:
2 Countries in 1 Day - Longest Leg of 2023 EuroTour - Day 4
Last day (coming soon)