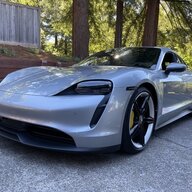 First Name

Mike
Joined

Jan 29, 2021
Messages
Reaction score

486
Location
Vehicles

2021 Taycan 4S, 2019 e-Tron, F250 Powerstroke

The 90% figure that is tossed around as the percentage of braking handled by regeneration is a bit misleading, IMHO. First, it's a generalization based on average use, not necessarily on someone who drives their car in a spirted fashion, and I don't just mean on track. I like to drive my car briskly on the back roads around here and I guarantee that I'm not allowing regen to do 90% of the braking. Even in "normal" driving I use the friction brakes much more than 10% of the time.

Second, unless the Taycan is different than every other car I'm familiar with, more swept brake area results in shorter stopping distances, assuming similar tires and road conditions. Even if regen does a lot of the work slowing the car on some occasions, there will be times when you want the car to stop...NOW...and all else being equal, bigger brakes will produce shorter stopping distances.

FWIW, when Car and Driver tested a 2014 GT3 with PCCB's and Michelin Sport Cups (the car I owned before the Taycan) it stopped from 70mph in 139 feet. When they tested a 2020 Taycan 4S with PCCB's on Pirelli PZ4s it stopped from 70 in 147 feet. That Taycan gave away almost 3K pounds to the GT3 yet it stopped from 70 within 8 feet of it's little brother. Those are the brakes I wanted on my 4S.