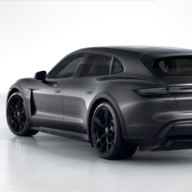 Joined

Jul 3, 2021
Threads
Messages
Reaction score

989
Location
Vehicles

CT4S 2022 + Mini Electric in 2023!

By my SA Jake of Porsche North, Houston, TX - sneaky - taken while I was paying for this beast
!
More recent pic with painted fenders for comparison:
Jan 25, 2022: MAJOR UPGRADE - PAINTED ARCHES
- more pics in thread
A
BEFORE
picture with black plastic OEM arches
and a couple of
AFTER
pictures with painted arches - close-ups deeper in thread:
__________________________________________________________________
Thought I'd set up a thread to post all my future mods to my 2022 CT 4S. Some of these will have to happen in Jan-Feb 2022 (supply chain issues).
Timeline
Order placed on July 7th, 2021.
Original Freeze Sept. 3 - changed 3 times
Initial predicted delivery November 11th - changed 3 times (one point into mid-January!)
Actual arrival to Houston Port Dec 8.
Delivery to Dealer Dec 10 - awesome as can claim $7500 tax credit
Once I pick up my car from the dealer this coming Tuesday (Dec 21), I'll share a lot more detailed pics of the features and small mods. done to date.
Mine is a rather heavily spec'd CT as follows:
Build Spec:
2022 (Nov. build) Taycan 4S Cross Turismo with PB+
Paint: Volcano Grey Metallic
Leather: Extended Bordeaux red and black
External mirrors painted in exterior color with gloss black base
Model designation on rear in body color
Technology Package (as part of Premium Pkg.)
Passenger display
Remote park assist
HUD
LCA
ACC
Performance Package
Electric sport sound
PTV+
PDCC Sport
Sport chrono pkg.
Rear axle steering
Premium Package
Power/folding mirrors
LED metric design headlights in glacier blue
Surround view
Ionizer
14-way power seas with memory
Massage seats (front) & ventilated seats (front)
Bose surround system
Cross Turismo 21" Design Wheels in Gloss Black
Noise and thermally insulated glass
Gloss black exterior inlays
Electric charge panel door
Black brushed aluminum door sills
Sport Chrono compass with Bordeaux red background
Porsche logo on front/rear headrests
Console trim in leather
Advanced 4-zone climate control
Heated seats in rear
Interior accents in Dark Silver
Night thermal vision assist
PIRM
150kw/400v onboard DC charger
Modification List (random order):
Clear Side Markers - INSTALLED
Painted replacement reflectors for rear side and rear red reflectors - INSTALLED but see #3
MAJOR UPDATE - NEW ADD: Adding big paint update - all textured back plastic to be sanded/primed and painted a Satin Black - in concert with body work to permanently remove the rear side reflectors and 'patch' the lic. plate holder to Euro spec. look and paint the embedded red rear red reflectors satin black also; finally the black plastic on teh charge doors and the 'tear drops' around the lights to be gloss black - Completion late May.
Air suspension 'CETE' system - Received - install April 18 2022.
Window Tint (Xpel - free from Dealer) - INSTALLED
Xpel Ultimate font half PPF - INSTALLED
Personalised license plate and tag (P-CT4S - OK, I know not really a mod!) - DONE but see #3
Painted body color wheel arches - DONE
Replace 'Monkey Butt' license plate holder - with custom body work - Temporary Plug fix installed - Plastic Welding and Body work filler/Paint - see #3.
Disable rear hatch beeper - Pending
STEK front windshield PPF transparent - INSTALLED
FitCam and radar-laser solution - TBD - add ons not true mods - FitCam INSTALLED - Radar PENDING
Display Screen Protectors - from Suncoast Porshce - INSTALLED
Other
LUNO Air mattress - really cool piece of kit - see post #37
Mustart J1772 (upgraded) 20ft. extension cable - see here: #141
This is what I had envisioned/rendered the plate holder area to look like once modified and showing my custom plate - totally doable and will be on April 18, 2022.
The clear reflectors rendered here are instead to be replaced with body colored painted ones.
This pic also a rough render by me of the pre-planned painted arches (quite a few forum members ahead of me here) and lowered stance (CETE) once completed
Temporary $20 FIX FOR THE MONKEY BUTT
- DIY COLOR MATCHED PLUGS!
Also
REAR PAINTED REFLECTORS INSTALLED - replace rear and side red reflectors:
Super simple solution retains max. area of OEM bumper, finished plug edges look good but I found a color matching grey primer spray paint (multiple coats) and a 'chalk' clear clear-coat and the result a near perfect match to the grey finish o the OEM bumper! This pic after I had replaced all the red reflectors on rear end too:
Compared to Monkey Butt (my car in dealership) - no contest to my eye:
DELIVERY OFF THE TRUCK:
Picture right off the truck on arrival at my dealership - still in 'monster truck' transport block mode:
Undergoing PDI at the dealership - got caught in a heavy rain shower overnight outside so rather dirty at this stage
:
PDI Complete and ready to send off to the Xpel shop for PPF and tint (still in bad need of washing!):
A teaser from my SA - PPF (front half) and Tint applied and full detail of the car by dealership (lot more to come):
Looking forward to Tuesday
Awesome day so far - believe it or not but I got EVERYTHING with my car i.e. two key fobs, all electronics (steering column, phone charger, TPMA, Sun sensor etc.) - amazing. The only hiccup so far is I cannot register i.e. login to create my profile on teh car. Annoying but will get there.
Just throwing some pics out here from delivery - actually took them before I had the clear side markers put on but will add more pics later - man, spectacular drive home in all Sport Plus more
This thing is a smooth as silk and forgot to mention, walking up to it for the first time just really emphasizes how sleek and low profile the car is in person - seems particularly hard to replicate in pictures as they tend to 'inflate' the rear end!
Finally did a quick charge check at home at immediately got 10.5 kW with my ChargePoint HomeFlex - nice!
Early days - more to come - unfortunately the sun was pouring through the clear garage door so a bit washed out:
Back home - the hips on this thing!
Bit of a deceptive angled shot as that is a two-car opening!!
Ignore range as obviously not broken in yet but nice charge rate
My SA set this pic up on way back from service where they installed the clear side markers on pick-up day whilst I was paying for the thing - good one Jake
Last edited: