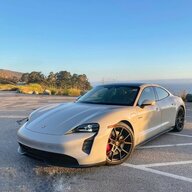 First Name

Chris
Joined

Dec 22, 2021
Threads
Messages
Reaction score

98
Location
Vehicles

Taycan GTS Sedan 2022

Overview
After 8 long months of anticipation, I finally took delivery of my Taycan GTS last week. Despite a supply chain crisis, a war, and a shipwreck, I was lucky enough to receive the car just 1 week later than my original delivery estimate with no markup. Redwood City Porsche was incredibly communicative and helpful throughout the process (props to Rudy!).
The first time I got behind the wheel felt amazing. I've driven plenty of Teslas, Benzes, and BMWs, and despite similar 0-60 times, they cannot come close to the level of presence this car has. It just feels so special. Being able to own this car is my childhood dream come true.
Photos
Before getting into my lengthy spiel, here are some glam shots taken right after PPF installation and ceramic coating were done.
First Impressions & Thoughts
Features and options are bolded.
DESIGN & QUALITY
Beauty is in the eye of the beholder, but it's clear that the design is second to none. I also love the GTS accents, from the gloss black rear diffusers to the side skirts and Satin Black Spyder rims. Like many GTS buyers, I opted for Chalk/Crayon paint to accentuate the black accents.
I also went for the
GTS interior package with Carmine Red stitching
. Race Tex is a controversial choice, but as someone who never eats in the car and has no kids or dogs, I was not worried about my ability to maintain it. I also felt like I was missing out if I got a GTS without the GTS interior. It's comfortable and, despite what some photos suggest, does not look overbearing in person. The red stitching, seat belts, and clock also spruce up the interior a lot. If you are a clean freak like me, I highly recommend speccing the GTS interior package. I used to hate dark interiors but I absolutely love this one and wouldn't have it another way. For me, it was worth the extra $$$.
COMFORT
Suspension is smooth and supple, even on poor roads with the chassis set to Sport+. I read a handful of journalist reviews suggesting the GTS was harsh. My experience could not be more different, having driven comfortably over pothole ridden San Francisco streets already. My BMW M340i would have given me a back ache in the same situation.
The
thermally and noise insulated glass
also makes the car feel like a sanctuary. It's supremely quiet at high speeds, save for a slight wind whistle that's only there when you listen for it. When you roll the windows down, you can see the extra layer of acoustic film sandwiched between the window panes. I haven't driven a Taycan without it but I'm sure it does something.
HANDLING
Incredible as you might expect. This was the least surprising part yet still the most satisfying element. The steering is surgically precise and confidence inspiring. I also spec'd it with
PDCC
and
Rear Wheel Steering
. PDCC flattens body roll and you can toggle PDCC in the instrument cluster to watch the chassis magic happen. I'm sure it already has neutral cornering even without PDCC, but it's one of those things where I would've felt FOMO for not getting it.
Rear Wheel Steering and
Power Steering Plus
also work in concert to make the turning radius like a bus. Navigating tight spaces and U-turns is so much easier than it was in my BMW. RWS also makes the car noticeably more planted when going through high speed twists and turns.
ACCELERATION
Lightning fast, though hard to discern from a 4S in everyday driving. I haven't tried launch control but the fact that I can put trucks and Priuses in my rear view mirror in the blink of an eye without spewing exhaust and obnoxious fart sounds is a great feeling. Speaking of sounds, the
Electric Sport Sound
is awesome. I had a rear passenger who found it to be a bit too loud in sport mode but it adds a nice visceral element for front seat occupants. The GTS Sport sound is definitely louder and deeper than in other models. However, I wish there was a way to turn it on by default rather than configuring it in individual mode and twisting the sport chrono dial every time I start the car. Strange choice from Porsche not to save the setting…
PARKING
This is my one driving criticism. Backing up out of steep driveways was a bit tricky at first. My driveway has a downward grade, so backing uphill is tricky since the car's e-brake kicks in when you press tap the brakes on an incline, and then the car will jerk because it can't decide whether to keep reversing or to stop. This will take some getting used to.
BRAKING AND REGEN
I did not spec $9k PCCBs as I was counting on using regen most of the time. But I do find it odd that, like Electric Sport Sound, you have to manually enable regen every time you start the car. When it is enabled, modulating the brake pedal feels very natural like an ICE car. But I do feel a slight click whenever pressing the brake lightly, and I've heard others in the forum report something similar. It doesn't bother me but I do wonder why that happens. I also suspect regen is throttled since Porsche wants the brakes to be "bedded" first. I will reassess in a few hundred miles.
INFOTAINMENT / PCM
The
Head Up Display
is better than I thought. Coming from a BMW I thought I would be disappointed, but it turns out to suit my needs just fine. The height and layout are pretty customizable and show you the basic info you need. Also, polarized sunglasses wash out my BMW's HUD but not the Taycan's.
The
Passenger Display
is also a nice touch. My partner is an aviation/map geek so he loves to mess with it when I am driving. When there are no passengers, it just shows a "Taycan " screensaver which is a nice aesthetic touch. Note that you cannot use this display unless a passenger is present.
The PCM functions reasonably well, with CarPlay, Android Auto, HomeLink, SmartLife, and Nav all working as expected. However, there is one big software gremlin: I am still unable to access my Porsche account on the PCM unit. It keeps forcing me to proceed in Guest Mode and disable private mode EVERY time I start the car. My account is authenticated, but when I switch to it, the loading screen appears forever and then times out with an account activation error. I'm getting this checked out in a few weeks at the dealer (and yes, I've scoured the forums and did everything they suggested to fix the issue, with no luck). This is my biggest gripe so far because I cannot use any of the remote functions on the My Porsche app. It mistakenly indicates the car is in Private Mode (side note- if anyone else experienced this issue, please let me know).
The
Bose Stereo
is nothing to write home about. It's exactly like any Bose Sound System should be and gives you the basic controls to configure Surround Sound. It's good, but not surprisingly so.
RANGE AND CHARGING
When I took delivery, my starting range was around 213 miles at 100% SoC. I did a lot of joyrides on highways so I think it's a low estimate. When I resume regular daily driving, which is predominantly local city streets for just a few miles to and from work, I think I can get closer to to 270 miles.
Charging is easy, for the most part. I installed the
Mobile Charger Connect
unit with a 14-50 NEMA socket and it sustains a 9-11 kw current. One thing I did not find intuitive, though, is that if you want to schedule the battery to charge overnight and stop at say, 85%, you need to enable two things: 1) General Profile to set your preferred charging times and 2) Charge Timer with a maximum desired SoC.
I also have two Electrify America stations within a mile of me, so I enabled Plug and Charge and tried it out. I know EA has its share of issues but it worked great for me.
My only minor regret is not having gotten the power charge port. It's a gimmick worth having and adds contrast to an otherwise homogenous side profile. It's plain cool. As a consolation, I did opt for the "electric" lettering on the side, which I know some people don't like, but it has gotten a fair share of compliments!
BONUS
I got this car to fulfill my passion, not for the status. But a side effect (or benefit, if that's your thing) is that the car attracts a great deal of attention. In Chalk guise, it's different enough from white such that people notice, and the louder GTS sport sound makes onlookers think a UFO is about to abduct them
. Even in the SF Bay Area, a mecca for Porsches, the car turns lots of heads.
Anyway, if you actually read this far, thanks for enduring my long spiel. I hope it was helpful. Here's to many more happy miles!