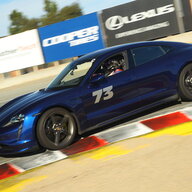 First Name

David
Joined

Jan 28, 2019
Messages
Reaction score

3,795
Location
Vehicles

Tesla(s), 911 GT3, Boxster S, Bolt, Taycan, Cayenn

It gratifies me that my
original post for the road warrior kit
has been so well received by the Taycan community - it was developed in an age when EA did not exist (the core recommendation pre-date the Mission-E announcement) - Tesla Supercharger network didn't have 8-64 stalls on every corner and a 270 kW maximum charge rate wasn't even a fantasy…
while I stand by my kit - I think it could be time to refresh the recommendations to a kinder gentler and simpler kit based on experience and progress. therefore I humbly submit the following recommendation for a cheaper, simpler, and more focused "kit"
a high value low cost mobile EV road-warrior kit could be as simple as follows:
High quality affordable mobile EVSE (40 amp or 32 amp) - PMC+/PMCC/Mustart/Tesla UMC Gen2 with NEMA 14-50 supply cable.
[Adapter] - NEMA 6-50P to NEMA 14-50R adapter cable - charge anywhere you find a NEMA 6-50R (plug socket) - $50 or less
[Adapter] - NEMA SS2-50P-* to NEMA 14050R adapter cable - charge at marina's, parking lots, concert venues, and AC generators - $50 or less

for 30 amp plug recommendation please see the original posting…I no longer consider 30 amp plug adapters "useful" or likely

that's it - that's the entire "kit"
Put another way:
A Mobile EVSE w/14-50 plug
TeslaTap
a 6-50 adapter/pig-tail
Marine shore power adapter
that's the core kit - but represents the most used plug types from my original kit.
actual utilization remains very very low
for these adapters,
but piece of mind while traveling away from home may be very very high
if you want confidence in your ability to charge at most any 240V/50 amp plug type while traveling.
in my mind this kit could be consider a "core" kit for those that wish to have options while traveling but not go overboard (like my original posting) - note these days I'm using public charging more and more and more - so "kit" usage is dropping below historical lows…which were already quite low - I rarely unpack it from my frunk.
the original kit is still the most complete kit for all possible charging scenarios - but it's overall
utilization still remains very very very low!!!
And in increasingly un-necessary in a world with more and more public charging.
enjoy…
* - for maximum confusion NEMA SS2-50P is also known as 886399 shore power - both are equivalent and there is no functional difference.
Last edited: