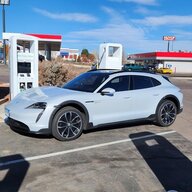 Joined

Jun 17, 2020
Threads
Messages
Reaction score

1,054
Location
Vehicles

'22 Taycan CT4s + 2023 Rivian R1T

I recently shared that I hit a piece of metal sticking straight up in the air as it was wedged in a gap between a bridge and the roadway, and wanted to provide a quick update now that I have received the estimate back from my local Porsche dealership. I have to admit I got super lucky since the Porsche tech's did not find any damage to the battery. Evidently the rate of speed that I hit the chunk of metal sent me airborne enough to clear the battery.

The worst of the damage to fix is the steering gear with rack rods. That alone is $5,100. We also have replace a front support frame since the radiator was pierced by the object. That is $3,200. There are a number of plates and a lot of molding that needs to be replaced, and these are held in place by 60 or so $15 to $20 individually priced screws, bolts, and nuts. I also need 52 tapping screws, which are $4.56 a piece. The coolant additive comes in at a cool $166.

I feel fortunate that between the parts, and the $15k in labor to do the work, the bill will be under $30k. Considering the impact strength and high rate of speed involved, I had enough good karma built up to walk away unhurt, and the car to only sustain moderate damage . I am lucky enough to be a 35 year customer of USAA, so they are looking out for me on this. They are also going to coordinate with me going after the Colorado Dept of Transportation for reimbursement of repair costs, the value of additional lost of vehicle time due to repair time, and lost of vehicle value due to the accident.

My local Porsche dealership feels confident they can get the parts within the next month, so I am hoping to be back on the road in the Taycan by the middle of October.

I know we all nit pick on this forum about particular things about the Taycan, but the car is a solidly built piece of machinery. Sure, $30k is a lot of money for car damage, but considering how much worse it could have been for the two of us in the vehicle, I take my hat off to the Porsche engineers for designing a well build vehicle that can take a beating.