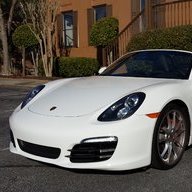 First Name

Friedrich
Joined

Apr 30, 2019
Messages
Reaction score

196
Location
Vehicles

Future: 2020 Porsche Taycan, 2022 Tesla Y; Current: Boxster S, Acura MDX; Past: 66 VW Beetle, 82 Porsche SC Targa, 91 Acura NSX, 98 Porsche Carrera Cabr, 2002 Porsche Carrera Cabr, 2004 Porsche Cayenne S

If the real world numbers are anywhere close to what Porsche did on their trip from Niagara Falls to New York (

https://newsroom.porsche.com/en/201...gara-falls-road-trip-new-york-city-18578.html

), I would be really happy. I know that it is a Porsche PR article, so taken with a grain of salt, but the article claims a charging stop after travelling 250 miles with reported 39 miles left in the batteries. Even if I do not count the 39 miles left, with 250 miles on a full charge will address my one day sightseeing trips.
Here is a review of the Taycan from a BIGTIME Tesla fan
https://teslanomics.co/uploader/teslanomics/
He with Teslarati tested a Taycan in Southern California for 10 hours. Even rode it hard and in the mountains. He estimated range on their all day trip for the vehicle to have a range of 268 miles (actual measurement). This is actually a great objective review from someone that is not a Porsche fan.
Three agencies have estimated range of 250 to 280, yet EPA says 201. hmmmmm. Wishfully thinking that maybe the EPA methodology is faulty