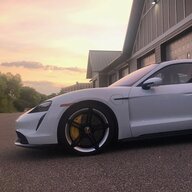 First Name

Scott
Joined

Sep 10, 2020
Messages
Reaction score

23
Location
Vehicles

2020 Taycan Turbo S, 2018 Audi S7, 1972 Datsun 240Z

Not to repeat others, but had a major 12V issue this morning. Taycan last driven 3 days ago. Overnight timer set for 85% max at 7am. no issues at all so far with mobile charger with 40A max. 385 total miles....should mention, very fun miles!

Go to car in morning All dark. Locked, so learned how to manually open door. Learned how to release charger connection manually on passenger side (who knew there was a string involved?). Porsche roadside contractor and I learned together how to jump the fuse panel in order to get enough juice for the frunk to open. Put the charger on the 12V terminals up front...and like magic, everything lites up inside. "Low 12V warning" on the display,, but otherwise fine.

Had them take the car to dealership to evaluate. My theory is some software sequence Is setting up an electrical drain on the 12V system. The modern day equivalent of leaving the lights on overnight in my 1972 240Z which would have the same net effect.

will post if I get any meaningful info from dealership.