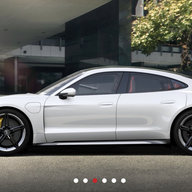 First Name

Jim
Joined

Jun 5, 2020
Messages
Reaction score

30
Location
Vehicles

Taycan Turbo - If and when it ever shows up.

Would like opinions from those that have operated a Taycan for a while. Specifically, if you could do it again would you still buy it? My Taycan will serve two purposes when and if I take delivery: it will be a sports car, and it will also be my daily driver for running errands, etc. My kids are gone so I'll be solo in the car most of the time and with my wife every now and then. I think it will fulfill the sports car itch quite well. I traded in a 991.2 GTS (as well as a Tesla S) for the Taycan, and other than the noise factor of the GTS, I'm not worried about the Taycan satisfying my sports car itch.

But I am worried about the daily driver aspect. Software glitches including the 12v battery running down, wireless Apple Car Play but a promise, quirky a/c controls, marginal trunk size, buried PCM menus, ingress/egress for a tall person (B pillar in the way), the list goes on. For daily driving, creature comforts are important. I would hope that Porsche would fix s/w bugs and fine tune the PCM s/w, but if their response to the 12v battery draining down is any indicator, I don't feel too warm and fuzzy about problems being addressed in a reasonable amount of time, or ever.

I'm inclined to take delivery and hope things are addressed, but then it's a ton of cash that I'll be paying. Thanks for your opinions!