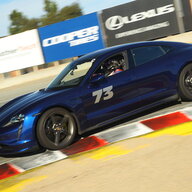 First Name

David
Joined

Jan 28, 2019
Threads
Messages
Reaction score

5,996
Location
Vehicles

Taycan, Cayenne Hybrid, 911(s) GT3/Convertable

I'm at the point in my life that I choose not to worry about things that are essentially of no consequence to me. The car is awesome and the charger does what I need it to do. If/when the PMCC ever fails to meet my needs, the solution is just a couple hundred bucks for a new EVSE. Not sure I'm going to throw the baby out with the bathwater and start questioning Porsche's commitment to "the whole EV thing" because they didn't nail the design of the PMCC on the first go-round.
this is from another thread - but I didn't want to derail that thread - I want to derail this thread

I understand this line of thinking but also I remember the vitrol with which people attack other car makers for not solving the whole problem?
the statement above is understandable and reasonable but at what point do we start admitting Porsche is behind in this game…
one of things that drew me to porsche was it's attention to detail and design into corners of automotive design that other "ignore" as "unnecessary"
but while I love my Taycan and consider it the best EV sports sedan on the market - albet at a price - so far after two years of ownership it only excels in Porsche's historical areas of excellence - and falls laughably short virtually all other dimensions that these days are required for automotive dominance
software

in car behind the curve
app behind the curve
cloud based behind the curve

OTA updates that take weeks to apply at a dealership and are far and few between - OTA here is also tongue and cheek - Porsche's notion of Over-the-Air (OTA) seems to be an eMail telling you to schedule your weeks long dealer visit to get the software.
EVSE that's overheat and are now officially down rated due to design problems
dealerships that are clueless regarding EV issues and deeply mislead customers
factually my Taycan has personally spent more days in service in two year than all 6 of my Tesla's combined - Porsche quality vs. Tesla quality don't make me laugh
fast charging network that is unreliable and a joke in North America
numerous recalls
complex charging software that takes a CS/EE degree to understand
now all of these issues have been discussed - and no one issue by itself is horrible - but we would all be laughing and pointing at this list of issues if it was happening to another car makers - but apparently because it's happening ot Porsche it's just fine and none of these issues are that bad
at what point do we stop apologizing for Porsche? These are serious issues, and if they don't get it together their build quality and mechanical engineering prowess will prove desperately insufficient over time and they will go down in stature - Porsche needs to start building competencies in some new areas otherwise this old school watch-maker stitch they have going on isn't going to carry the day.
they need to get serious about being the best at something other than stitching, steering feel, and brakes…cause I'm still taking my vehicle to the dealership and dropping it off for 2 weeks to received a software update that has color icons…my son's Tesla recieved two complete updates in the time my Taycan was at the dealership.
I expect better…and I'm having this thread so we can discuss if I'm alone in this.
friendly discussions only please ;-) but I believe these are issues worth wasting time on an internet forum about.
Last edited: