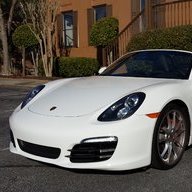 First Name

Friedrich
Joined

Apr 30, 2019
Messages
Reaction score

153
Location
Vehicles

Future: 2020 Porsche Taycan, 2022 Tesla Y; Current: Boxster S, Acura MDX; Past: 66 VW Beetle, 82 Porsche SC Targa, 91 Acura NSX, 98 Porsche Carrera Cabr, 2002 Porsche Carrera Cabr, 2004 Porsche Cayenne S
Is this a political forum? I thought it was for cars.
Well....guess you must support Trump. Trump irrational antics definitely effect the Taycan....About two or three weeks ago Trump declared European cars to be a national security threat to the USA, a necessary step to impose tariffs. The only way he can legally raise tariffs to any country without Congressional approval is by declaring those products to be a national security threat. Trump already had been threatening tariffs to the German car makers, then the EU negotiators offered NO TARIIFS at all for all cars and trucks as a solution, but it was not accepted by Trump. Currently, cars imported to the EU have a 10 % tariff, while cars imported from EU to the USA only have a 2.5% tariff, but TRUCKS have a 25% (where US car makers make the bulk of their profits). So Trump didn't react to the no tariff offer, but now is tieing the tariffs to agricultural trade!! The USA violates international trade rules in agriculture because it gives massive subsidies to farmers, so European farmers cant compete without tariffs. So the Europeans will not budge on agriculture, meaning that there is a good chance Trump will follow through on this tariff threat against European cars.
The bottom line is that Trump may impose a 25% tariff on German cars in December. This will effect ALL of us that live in the USA that want to buy the Taycan. So yes, it is appropriate to discuss Trump in reference tariffs for German cars. Obviously stay away from other comments about Drumpf.
The demand for the Taycan exceeds the supply in the first year, so it won't effect Porsche's Taycan in the first year, as there are plenty of Europeans and Chinese that will snap up to replace Americans. It will effect Cayenne, Boxster/Caymen, Macan and Panamera sales.
Last edited: