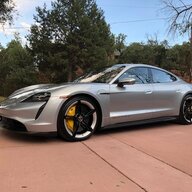 First Name

David
Joined

Sep 11, 2019
Threads
Messages
Reaction score

1,104
Location
Vehicles

Porsche Taycan Turbo S, Audi E-tron

I finally got around to updating the software in my 2020 Turbo S this week, and was given a 2021 Taycan RWD as a loaner. The only options are the premium package and the Turbo wheels. I've driven my Turbo S 7500 miles so it was fun to drive a different Taycan spec for the week. Here are some of my observations.
First let me say it's a fantastic car. The base Taycan really is a great buy. A couple of years ago I had an Audi RS5 Sportback with a $90k MSRP, and for the money I would easily take a RWD Taycan over the Audi. In my opinion the Taycan has better looks, better handling, quicker off the line acceleration, way better tech, and is much more comfortable.
So how does the base Taycan compare to my Turbo S?
The acceleration is no comparison, but the off the line acceleration in the RWD was decent. The biggest difference was at highway speeds. This would be the biggest reason I would consider upgrading to a 4S. The 4S seems to hit the sweet spot in terms of acceleration. However, the RWD is quicker than most other entry level luxury sport sedans. So it really depends on what vehicle you are coming from.
The steering and handling in the Turbo S is more crisp and it feels flatter through the corners. I heard that the lack of a front motor improved control of the front end in the RWD, but it felt less precise in my opinion. It could be the difference in 20" versus 21" wheels (thinner tires with more grip)
The air suspension in the Turbo S has better ride quality
RWD was noticeably louder on the highway without the insulated glass
I have a tight turn into my garage and without the rear axle steering I had to do a two point turn in the RWD
I have the Race-Tex steering wheel in my Turbo S. A leather steering wheel almost feels sticky and gross now in comparison
The brake regen in the RWD is not as smooth. My guess is this is due to balancing the braking between front disc brakes and a rear motor. It seemed to pulse more under light to moderate braking.
The leather interior definitely feels more premium in the Turbo S, but it's hard to justify especially at the RWD price point. I would pass and buy other upgrades.
I miss the Sport Chrono
There are other luxury upgrades in my Turbo S, but these were the things I missed or noticed the most during the week. I would not hesitate buying a RWD Taycan if you are in the market. Porsche has nailed the entire lineup.