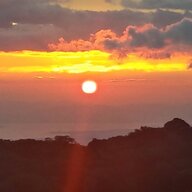 First Name

Ken
Joined

Sep 1, 2019
Messages
Reaction score

265
Location
Vehicles

BMW 650i Convertible

Last Sunday (August 15) was my birthday. About a week before, my wife asked me what I wanted to do for my special day. I looked nervously at the ground and considered my words. No matter how I couched this, it wasn't going to be easy for her to hear. "I'd like to drive my car in the manner for which it was designed. Fast and on lots of curves." Now, you have to understand that just pulling out of my driveway with her in the passenger seat, and then doing the turn to get driving in the right direction might induce motion sickness. So what I was, in effect, asking for on my birthday was to do something that wouldn't include her. Graciously, however, she thought that would be fun for me and said something along the lines of, "As long as we can do something later in the day." Deal.
So I texted a few of my friends I've made here on TaycanForum and asked if they would like to join me for a route I selected. To my delight, they all said "yes" immediately. Like no hesitation. Of course they would come!
This is the route. Some of you may have taken these roads before. I chose it because it has lots of twists and turns and curves and hills and oh my, it's a really fun route. Most of the beginning of the route is fairly heavily trafficked as we head to a very popular meeting place in the hills behind Woodside, Alice's Restaurant. The place is popping with motorcyclists, car enthusiasts and looky-loos. Getting there for this road trip was a bit on the frustrating side because a) the two motorcyclists in front of us wouldn't yield or speed up, and b), there was heavy construction at two points, causing all traffic to come to complete stops. I was optimistic that once we got past Alice's and headed toward San Gregorio State Beach, that would change. It did get better, but it wasn't yet great.
Sunday comes and we all meet in a small parking lot behind a Peet's Coffee in Los Altos.
Left Taycan, mine. Right Taycan, daveo4EV. In the background, that's Daveo4EV, Reg, and Ron_B from right to left.
Ron_B's car left. Reg's car right.
Here we were, stuck behind traffic lights as the 2 lane road became 1. Those two motorcyclists were a couple, and they were, unfortunately, slow.
San Gregorio Beach parking lot. Thanks to Daveo4EV, we all got entrance and of course had to pose the cars. It wasn't exactly the most scenic parking lot, so we didn't stay long.
It wasn't the clearest sky (fires in the state of California + famous foggy coast lines) but it was still very nice. Here we were just down the road a few miles at Pescadero State Beach. As we positioned the cars (took a few minutes), someone behind me was taking pictures of the cars. It seemed that everywhere we went, heads turned. Maybe it's that distinctive Taycan sound. More than likely, it was that the cars are simply beautiful.
Heading back inland, we stopped at a wine tasting "farm." We didn't buy or drink any wine, but we thought it a nice place to stop and take another photo. From here, until we got to our final destination, it was heaven. Rarely was a car in front of us, so we got to open it up. We climbed up the windy hills and then drove on an extremely narrow and windy road called Alpine Rd. In the video below, you will see it as the last clip.
And speaking of the two minute video, I shot it while holding my phone, while driving. That was stupid. And dangerous. And really could only be done when the conditions were mild (perhaps even boring). So forgive the silliness and poor quality. I didn't edit it. I simply merged 4 videos into one. The last clip, as I just mentioned, was Alpine Road. It was when we were just getting started on that road, which proved to me, to be the perfect road to go as fast as you can while a turn is nearly upon you as soon as the last one ended.
Fast driving + Very curvy road + 1 lane (bi-direction) + low margin for error = exhilarating
It had the added benefit of being beautiful, what with the Redwood Trees and gorgeous views of canyons and mountains. This was the only time since I bought my Taycan (
I call her Farrah
), where I was able to get the tires to screech. This went on for miles and miles. To the extent I had an indelible smile on my face at the end of this drive, it was mainly because of this portion of the trip. We ended on Skyline and then Highway 9 leading to downtown Saratoga, where we all ate lunch.
Lastly...
That's me in the back corner, Ron to my right. Against the window is Dave, and closest to the camera is Reg.
Thank you all for such a fabulous trip. It really made my birthday great!
Last edited: