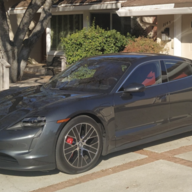 First Name

Ron
Joined

Dec 30, 2019
Messages
Reaction score

1,350
Location
Vehicles

Bolt EV, Taycan 4S

Car and Driver
https://www.caranddriver.com/review...ycan-turbo-s-testing-acceleration-zero-to-60/
Porsche Taycan Turbo S Is the Third-Quickest Car We've Ever Tested
Only the Porsche 918 Spyder and the Lamborghini Huracán Performante beat it to 60 mph in our testing.
JAN 29, 2020
The 2020 Porsche Taycan Turbo S achieved a 2.4-second zero-to-60-mph time in Car and Driver testing.
It also raced through the quarter-mile in 10.5 seconds at 130 mph.
The 750-hp Turbo S model is the most powerful Taycan, with 80 more horses than the standard Turbo model.
Electric cars are inherently quick. They jump off the line with instant torque and, when armed with enough power, will scramble your understanding of what quick feels like with reality-warping acceleration. That's exactly what the 2020 Porsche Taycan Turbo S did during our instrumented test of the 750-hp electric four-door. The most powerful Taycan rocketed to 60 mph in 2.4 seconds and blew through the quarter-mile in 10.5 seconds at 130 mph.
Using 60-mph times as the measuring stick, the Taycan Turbo S is the third-quickest car we've ever tested, behind the Lamborghini Huracán Performante and the Porsche 918 Spyder. The 2.4-second sprint to 60 also matches that of the 1001-hp Bugatti Veyron 16.4, the beast that launched the million-dollar hypercar craze. Notably, the Taycan Turbo S is also 0.1 second quicker to 60 mph than Porsche's sports-car icon, the 580-hp Porsche 911 Turbo S.
How does the Porsche Taycan Turbo S stack up against a Tesla Model S? We last tested that car back in 2015, using a 532-hp 2015 Tesla Model S P90D. Tesla has since replaced the P90D with the more powerful Model S Performance, and we're working to bring you numbers on that car soon. Until then, we can only say that the 532-hp P90D notched 60 mph in 2.7 seconds and cleared the quarter-mile in 11.1 seconds at 120 mph.
The only electric car with a two-speed transmission, the all-wheel-drive Taycan Turbo S leaps off the line in a way that makes many gasoline-powered supercars seem sluggish. For the full story on the Porsche's performance, including braking and skidpad figures, read our full instrumented test of the Taycan Turbo S.
That lightning-quick acceleration does come at a cost, though. Taycan Turbo S models start at $186,350. And while this electric Porsche is now the quickest four-door we've ever tested, regardless of fuel, it's also the least efficient electric vehicle, according to the EPA. It's rated at 68 MPGe, which limits its EPA-rated range to just 192 miles on a charge.
Last edited by a moderator: