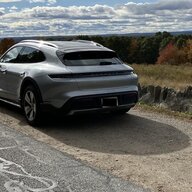 Joined

Oct 18, 2018
Messages
Reaction score

80
Location
Vehicles

2018 Panamera 4 Sport Turismo E-Hybrid

Maybe you have had bad experience with people that turned out couldn't be trusted in such forums, cometguy, but my experience with dedicated forums like this, is that members want to contribute with accurate information, knowledge and insight to the common good of the interest group.

As said, I got the diagram pr email from my dealer. It's a decent size Porsche dealer: In 2020 this dealer sold 93 Taycans. And I trust that the sellers there give me correct information.
This has nothing to do with bad experiences. From personal experience, dealerships tend to know MUCH less about the cars that they sell than do the people who buy and own them (excepting mechanics/technicians in the service department for the stuff they work on). As I wrote, I'm wondering because I can find nothing via Porsche HQ regarding the information in the chart provided in this thread; if this is an official chart, why would Porsche HQ hide it? No offense intended. I just don't accept things that aren't backed up. The chart seems plausible, but it doesn't seem to gel with some of the YouTube reviews that I have seen, as I said. I'm not saying that the chart is wrong -- just that I want more verification. For some of us, ground clearance is very important.