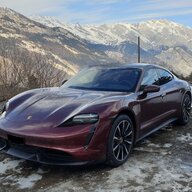 First Name

Philippe
Joined

Mar 10, 2019
Messages
Reaction score

39
Location
Vehicles

Yes!

I collected from porsche various configurators the base price of the Turbo and Turbo S. To have a significant comparison I put all the prices in
Euro without VAT or any tax or any incentive
(for USD, CAD, CHF, DKK I took today's exchange rate)
! I did not checked if the base price correspond to exactly the same service (warranty, country variation, etc...)!
For Taycan Turbo
Canada 119'806
Denmark 122'357
Germany 127'846
Sweden 128'000
Italy 128'539
Spain 128'635
Portugal 128'635
France 129'626
Belgium 130'450
Finland 131'855
Norway 134'235
USA 137'208
Switzerland 165'680 (but for this price you get for 10'318 euro of "free" option

)
​
For Taycan Turbo S
Canada 147'363
Denmark 150'132
Germany 155'846
Sweden 156'000
Italy 156'538
Spain 156'635
Portugal 156'635
France 157'627
Belgium 158'450
Finland 160'403
Norway 163'009
USA 168'214
Switzerland 201'893 (but for this price you get for 10'318 euro of "free" option

)​
Update 1 (2019/09/13): added price for Norway (thks @SHN) and Sweden (thks @Skystorm)

Update 2 (2019/09/14): added price for Denmark, I did my best to interpret the local taxes
in order to find the price without VAT and tax
https://skat.dk/skat.aspx?oid=2244599
Update 3 (2019/09/15): added price for Finland (thks @Singularity)
Last edited: