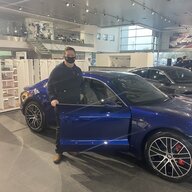 First Name

Rob
Joined

Oct 1, 2020
Messages
Reaction score

174
Location
Website
Vehicles

Taycan 4s & Cayenne S

Good evening.
CWFMT.com offers support and counselling services for prospective and current owners of the Porsche Taycan (the service is free on the Turbo S, $1,112 on the Turbo and comes as an OTA option of $999 a month for 4s if you have the hidden seven seat option). The Porsche configurator will now include this option randomly across territories with a helpful one line description, "may help with the stress, may not".
Can't Wait for My Taycan Syndrome is a recognised condition and can be diagnosed as follows:
Multiple configurations tried and subsequently changed over 622 times after feedback;
Delivery denial - early onset of not believing "it takes how long?!?";

Secondary condition of attempting to improve this often wasting up to 908 hours in the process;

To lock or not to lock anxiety - I can change it right, what I can't, I can, but I wanted the purple stitching on the blue seats;
When will it arrive?
WTF are the V codes and why can't access that system they can (cue the 911 owners);
Advanced V panic - has it hit the dates, what is V4589 (they are hitting the chassis with a hammer)
Has it left worry - the factory, the compound, the dock, the ship, the dock, the dealer....
Wait, there is a ship?! aka I now need to become a ship spotter
When will it arrive?
Oh no.... its electric! I need to be able to drive 3987 miles once in the next seven years, how will I manage this?!?
Has it arrived yet?
Joining a forum - the final condition, often the most dangerous stage, often leads to 12v, app, charging, there are no chargers, realisation that porsche can't code a nokia 3310 let alone an advanced EV, why oh why did I pay for sport sound remorse, what colour is my ship, when will the £$%$%@ car arrive sub conditions.
The only cure for this terrible condition is as follows (aside from sending cash to
[email protected]
):
Keep enjoying the lovely pics everyone is posting when they do get their hands on these wonderful machines;
Thank this great forum for the info, reassurance and knowledge from the brothers and sisters that have gone through this terrible condition and now lord it over us in their shiny ceramic coated dream machines;
Steal a taycan
When the glorious day arrives and after seven attempts to charge in a pub car park, remember those still in the grip of this horrific condition, don't mock (too much).
I hope this helps for those suffering and I must now pop off to read a book, I'm not refreshing my browser on a static shipping schedule or re-reading the dates on a screen shot from Porsche in October. Honest.