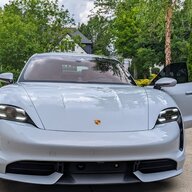 First Name

Sergey
Joined

Dec 19, 2021
Threads
Messages
Reaction score

337
Location
Vehicles

16 Macan Turbo, 20 Cayenne Turbo, 23 Taycan Turbo

I just drove my first 100 miles in my own Taycan after delivery and PPF around the neighborhood but wanted to share first impressions as in the song "the first cut is the deepest" before this gets away.
1. Config, Order, Tracking, and Delivery Process
: This is still burning deep with disappointment telling myself that the world has shifted and expectations for purchasing something this special (to me) have to be lowered, and lowered, and then some. I have no context of sports cars but as a family we are on the 2nd Cayenne (2020) and first Macan (2016) and now Taycan (2023) joins the family so very familiar with Porsche overall and what you can or cannot expect.
I would like to state the obvious to those who do not have this context that
configuration experience
was very accurate up to the lock time and before the price and model changes for MY24, so I was good, but some options are impossible to visualize and having black on black representation of some simple options does not help, point being why Porsche cannot improve option descriptions and visualizations is beyond me. My advice is that when you settle on your configuration make sure to save as PDF and Print it with all the Standard, Tech, Pictures as you may not be able to recreate it in the future with correct information.
The
ordering process
is pretty simple, but I always negotiate the lowest deposit down, discount, and any extras while you have some leverage before signing up for the order. Then be sure to get the official PO with all details of the options, agreements, prices, and taxes (some items are taxable and some are not) at least as a baseline for the major costs so it is in writing and both you and dealer scribbled signatures on it so if you have to dispute say electric steering column or some price increase such as a doc fee in my case, then I got them to stay to the agreed vs. what corporate just increased.
The
tracking
of course varies but you really have no idea of what's going on with TYD only helpful when things happen, so my advice is to ignore any projected dates as all of them were wrong for me. This was so unpredictable, that I only got the call from the dealer when the driver decided to phone in like an hour before dropping it off at the dealer as I wanted to be present and film the offloading process. The point being is that it is ok to get some simple things ready like clear markers, EVSE install, in my case Groovey shade, but certainly do not time your money as many including myself missed out on the market growth getting it too early. Mine arrived at Baltimore on 5/26 and was supposed to be delivered by 5/31 that seems reasonable but then nope changed to 6/14 for no reason, then you think sure thing it will arrive a day or two after that as others did, nope, truck release was 6/17 and then you think, it will be over like 6/19, nope, arrived on 6/22.
The
delivery
is the lowest point for me as this is just like meat unpacking process and you are lucky it arrives undamaged and there was no such luck for me. It escapes me that the car of this level is not protected inside and out during transport. Pretty much all of it exposed as it goes through trains, ships, and port yards, so on arrival I had footprints all over the interior doors, and since the transport takes so long (9 weeks for mine) the 12V battery cannot make it, so port personnel had to jump it damaging driver sill leather, slicing driver door rubber seal, and then breaking the frunk enclosure by ripping the cover off, then paint correction noticed some marks all over the front fenders and the hood and worked many hours to try to smooth them out, then bottom protection plastic guards were shredded (so what are they driving over during transport?). I do not care about first world problem excuses (I came from nothing, and it took all but 30 years to get to this point one day at a time), at the end of the day, this is wrong in my opinion for Porche not to properly cover the car for transport and have poor chain of custody of our cars in the process. I know they can do it right since my 2020 Cayenne came in wrapped and undamaged and 2024 Cayennes that came on the same truck were perfect. So, the delivery turned into how we handle all these issues and how many weeks (14 weeks) it would take to get parts to fix everything.
Then the
PPF process
did not fare much better for me since the shop was paying all the attention to the Nevera. My film was not tucked in, tint had large bubbles, front and rear tint had to be pulled for poor quality, and then they did not detail the interior, or the plastic exterior trim after having it for a full week. I was rushing them to get it to me by 1pm on Friday (this would be working day 6 they had it with me firmly scheduled) so I can take it back to the dealer to look at not flush trim before the weekend, so I did not inspect all these issues. So going to deal with all the redo this week then.
2. First impressions
after doing the setup of all systems and just driving around the neighborhood.
I am not new to driving the Taycan as my outstanding dealership is so nice to me that over the past few years and as recent as 2 months ago, they would let me drive a loaner for many days that I would take on a 750-mile round trip. However, none of the loaners or lot cars have
the configuration
that is even close to mine (just basic standard interior with no air suspension or rear steer) and even the last one with only 3k miles on it needed some deep cleaning and washing before I could take it on a long trip to feel comfortable in it for a long time.
Therefore, I was negatively conditioned not to expect the luxury feel from the interior as we are just paying for the 75 years of driving tech and just be happy there is an interior to this thing. However, as soon as I got into mine that was still filthy from transport to take it to PPF just a few miles away, it took my breath away
how luxurious
the leather interior package is as in super
high quality
and
super tight fit
to everything that is a preference to me vs. mushy with neck pillows leather interiors. The point being that going with standard interior is to miss out on this experience. My hope that it will stay that way under my care as loaners I driven were not holding up very well as they looked and smelled worn out, the last one had a lot of dog hair I had to vacuum out.
The setup was
very smooth
and easy with testing everything for operation in Park and Drive listening to any rattles. I just cannot figure out how to
go back to live
in XM station after a replay/rewind [Edit: pressing >> button to fast forward will get it back to Live but no dedicated one press go live function that I found yet] and when listening to a 320kps track on the USB stick the BM volume
was not very loud
and was already at max 35 [Edit: I tried other tracks and they were louder so this may be related to a certain MP3 track that is recorded at a certain volume level and not related to the audio system max volume]. I am not a loud music listener, but my Bose in the Cayenne has plenty to go past my too loud point. One thing I found very helpful is to use
a pen with touch screen point
to get all the pressing done much more efficiently during setup. Also, I was happy to contribute to
@ciaranob
impressive data efforts
recording
99.95% SoH
on delivery and will be tracking it every 1k miles as it is pretty simple to keep tabs on this thing.
At last, the
driving around
, I only did neighborhood streets drive stopping at small parks to get things adjusted. This is an
out of body experience to me
, as it feels like it is a spaceship but on rails that just carves things out in an effortless super precise way but relaxing while it is doing it, how is that even possible, that is what you think when you are driving it. I have all the driving tech in it, but none of the loaners felt that way without it. The point being is that I certainly stretched to have it all, saying to myself, I cannot regret not having something that had to be waited for so long, and use that time to get a second job and save more in the process from the first job to pay for all the options I wanted. I am glad I stuck with it and now the result is just full enjoyment of that decision.
One interesting observation during the drive, as I
do not want attention
with our cars being basic colors of Carrara White, Chalk, and now Ice Grey, but this one I was not so sure about given its absolutely stunning looks vs. anything else on the road (even that Nevera looked too busy and not unique looking) and I only seen a few Taycans in the area in the last 3 years, for sure it should stand out. However, as I was going around, the walkers or people in the parks
did not notice it at all
, may be because I was going slow in super silence like a sloth with very clean led daylights lights on. Only 2 people noticed that were definitely car people and gave me a wave and a V sign, which was very nice of them, clearly knowing this is a new car around. The best reaction I got was when I was going around a park round about and kids saw me and start jumping and screaming pointing at the car like something they have never seen before. That is a very
welcome attention
that I loved.
Specifically, I am super happy that I went with sight unseen on the configurator but some helpful pictures from the forum members with
Door Sill Guards in Leather and Rear Tray in Leather.
I will post some pictures of it later, but since my interior is Black/Chalk then contrast stitching option for these is selectable to be
Chalk
for unexpected and amazing to me outcome. There is just so much leather in this option for front and rear sills to replace standard plastic and the leather is very sturdy, however, the port guys sure damaged it already by pulling that fuse cover. The last thing I did that I am very happy about was with the
Groovey shade
, as I appeared to get the last one made, vs. the VLC Roof option that I originally speced. I backed out of the VLC after seeing how it works (or does not work well in blocking the sun) in a 22 GTS at the dealer and it was broken with one panel not going off, requiring that customer to replace the entire roof taking months, so he was having this one panel on, all the time, disastrous outcome to me. He was not happy at the end as it looks milky white where he thought it would turn darker like in darker tint. Based on this, I highly discourage VLC option for those reasons.
In conclusion, if you want one, then make the order right away, since there is a lot of time to play with the configurator until lock, and do not compromise on options if you can possibly do it and use the time to save for what you want, so when this moment comes, you are just enjoying it from the very first mile. The forum has been a place to keep the mind in check while waiting, and now I cannot wait to drive it.
This is the moment when it came home, with my son checking it out.
Last edited: