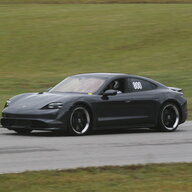 First Name

Lewis
Joined

Oct 13, 2020
Messages
Reaction score

657
Location
Vehicles

'12 Tesla Model S P85, '17 Cayenne S, '20 Taycan Turbo

So they say misery loves company. Here's my misery.

HPDE coming up this weekend and my factory brake fluid is just over a year old and the Taycan has been to the track three times in the last year. So it's time to change the fluid.

It's not a difficult procedure. I've done it before on other cars. Unfortunately, I allowed myself to be interrupted between draining the master cylinder reservoir and beginning the bleed process - and forgot to top off the master cylinder reservoir with new fluid. Next thing you know, I've sucked air into the master cylinder and ABS system. Although I've refilled and bled the system as best I can, air in the ABS system requires a PWIS connection and process to open actuators in the system to complete the bleed procedure -> trip to dealer. Even in the off chance they get this done by Friday, am I going to trust this on a track this weekend? I don't think so.

I'm not even certain I can safely get it to the dealer. With the ABS system off-line, PSM, differential lock, and brake assist are all reporting as out of service. And the pedal is too soft, though I can stop the car.

Such a dumb move. It's going to cost me the HPDE cost plus at least several hundred dollars in labor at the dealer, plus the humiliation of explaining the mistake in the first place.