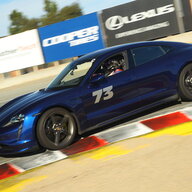 First Name

David
Joined

Jan 28, 2019
Messages
Reaction score

2,733
Location
Vehicles

Tesla(s), 911 GT3, Boxster S, Bolt, Taycan, Cayenn

just picked up my car from Porsche Service - pano roof replacement + software updates + clear side markers…

I can report the car still charges at 11 kw charge rate - I was 5% concerned Porsche might nerf the charge rate to make the 9.6 kw maximum rate in the US specification, but not so far. Car is charging now off my Tesla Wall charger (80 amps) at a full 48 amps (11 kW) - car reports on lower center screen 10.86 kW charge rate.

again I don't consider this ground breaking, but it's a factual report.

Service Manager (great guy) was confused - his training indicates car has 11 kW charger on board - doesn't undesrtand why US specifications page documents 9.6 kW - he was very confused by the discrepancy and was going to check in to it. Understand my concern Porsche might 'nerf' it in the future via software, but didn't feel it was likely.

so I can confirm we've retained the 48 amp charge rate post software update for the current round!