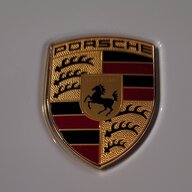 First Name

Richard
Joined

Jul 31, 2023
Threads
Messages
Reaction score

22
Location
Vehicles

Taycan GTS and several others and 2 MCs

Anyone here know how to ask for a change in behavior on the Taycan?

What I'd like to see is the night vision assist display be able to take up the same space as the map or extended map on the dashboard, instead of just the center circle. My 2015 S Class did this (automatically!) when using night vision, moving the tach and speedo to the sides to give an almost full screen view. Seems silly to just use the small space that the power meter would use (that's my default center gauge)… it's too small to be useful the way they do it now. Apparently Audi has this function already so it seems like the code for it should be available on the VAG GitHub. And can we change the color to red for pedestrians?the yellow is too difficult (low contrast) to see amidst all the gray and white background.

And while we're at it, why isn't there an option to have this happen automatically and have it come on when a person is detected. It puts the yellow overlay on the person, so why not leave it on and running in the background and when the person detect is triggered, put it on the screen. All the mechanisms are there already, so it wouldn't even be a lot of new code To Q/A.
Last edited: