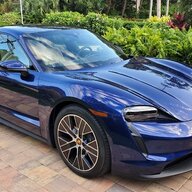 First Name

Doug
Joined

Jul 26, 2021
Threads
Messages
Reaction score

155
Location
Vehicles

22 Taycan RWD

Greetings!
After my first 1000 miles and a bit over a month with my MY22 RWD, I have zero regrets. Wanted to share a few thoughts, primarily on options:
RWD and PERFORMANCE: First and foremost, am I happy with the base model? Well I can say it is plenty fast for me. Sure the first 0-10mph is not mind blowing, but it otherwise is so darn quick in all other situations. The instant torque when accelerating once over 10mph is a blast. One thing I really like is you get to enjoy a brief period of acceleration before having to take your foot of the pedal or hitting the brakes. When I test drove the 4S, I was almost immediately having to brake in most situations.
I find it extremely fun to take fast turns and letting the car fishtail a bit. So controlled. So precise. Just an amazing driving experience.
Actually, one thing I don't like about the RWD is the boring black calipers. I may pay $800 to get them powder coated a different color.
GENTIAN BLUE: Beautiful color that has a lot of moods depending on lighting. Before I got PPF and Ceramic, I felt it showed dirt quite quickly. However, since having that applied, it seems more dirt resistant.
OLEA BLACK/ATACAMA: The interior was the option I most agonized over. I absolutely love this selection and am really glad I paid extra for this. I wanted beige to compliment the blue (good in Florida) but wanted a good balance and contrast with black. This is why I didn't opt for Limestone (too much beige for my taste). I love the feel of the interior. I agree with many comments on this forum that you spend most your time inside the car, so this is a worthwhile option.
PCM/SOFTWARE/INTERNAL SYSTEM: It sounds like it may be the MY22 figured it out. I have had virtually no issues. The setup of my accounts, garage door, etc. was a breeze. MyPorsche App works just fine for me (just takes a few seconds to update when launching). The ONLY issues I have had so far is that my Bose settings have been erased a few two times. Car alarm has gone off, but I just disable for now. Having some issues connecting to Android Auto but that is due to a bad port on my phone. When it works, it is nice. Can't wait for wireless Android Auto update, since it is hard to find a good wireless dongle in stock.
BOSE: Sounds pretty darn good to me. Never heard the high end upgrade to compare, but I have no complaints.
REAR AXLE STEERING: So far, this is one of my top features. I never had a car that was so nimble. Parking, three point turns, U-turns. Just ideal.
ADAPTIVE AIR SUSPENSION: Really nice to have the Lift function. I pretty much stay in lowered mode in most instances, but press the Lift button when needed. Love that it saves the GPS locations. Such a smooth ride. Going down a bumpy road in my wife's Highlander is actually rougher than the Taycan. Would never have guessed that.
PERFORMANCE BATTERY PLUS: So right now I am getting 245miles on a 85% charge and that keeps increasing the more I drive it. I only charge about once a week. So did I really need this? Not convinced yet. Probably not but might be nice to have in some rare occasions. Only time will tell, but I am not regretting that I got it and feel there is a noticeably quicker acceleration than the RWD I test drove.
ADAPTIVE CRUISE CONTROL: Hmmm. This was a pretty darn expensive option that I have used rarely so far. Perhaps I will use it more. Right now, I often forget to turn it on. Of all the options, I am not sure this was worth it.
PANORAMIC ROOF: Can't imagine not having the Panoramic Roof. A bit bright sometimes with direct sun and you can't see the stars at night. But I love how it opens the car up.
AMBIENT LIGHTING: Are you kidding me? This MAKES the interior of the car at night. So cool. I have them turned up to 100%. Love how the dynamic setting matches the album art and will actually create a color that you might not be able to select directly. I can't see how anyone wouldn't love this.
ELECTRIC SOUND: This has a big wow factor for any passenger I have taken out (or bystander). I actually find myself toggling it on/off (steering wheel button) quite a bit and will turn it on when driving around my neighborhood or crowded streets. I find it to be a bit of a safety feature as people can really hear you coming. Sure, it can sometimes be a bit annoying when just driving by yourself but it does help me understand how fast I am driving. One funny comment I often get when talking to someone on the phone is they can hear the sound very clearly. I get comments like "Are you in a spaceship right now?" Certainly glad I got it. Just fun.
MASSAGE SEATS: Another wow factor for passengers. Being able to say "Hey Porsche, massage the passenger" is priceless. I like it but don't use it for myself THAT much.
VOICE CONTROL: Speaking of voice control, I love this feature. It works fantastic when I am alone in the car. I use it for calling people, directions, changing XM stations, massage activation and changing ambient lighting. It doesn't work great however if someone else is in the car talking.
As for Options I didn't get but agonized over:
SPORT CHRONO: I didn't want the clock on the dash and wanted to save a bit of $$. I have no regrets whatsoever not selecting this option. When I want sports mode, I just hit the sports button on the console and can toggle sports sound on the steering wheel. If I want a Sports Plus on Chassis, I just hit the button on the consult (but rarely feel the need to select that). It is as easy as that. Given that I have the RWD, I feel I am not missing anything by not having Sports Plus. The upgraded steering wheel might have been a bit nicer, but I frankly love the feel of the base steering wheel.
NOISE INSULATED GLASS: All I can say is the car is super quiet without this option. Almost every passenger comments on that. So can't compare.
ODDS AND ENDS:
- No issue with cell phone reception. Blutooth works great.
- Love the headlights and how they turn with the car.
- Love the displays. I have a microfiber cloth in the armrest that I need to use a lot though due to fingerprints.
- Built in navigation works terrific. Easy to understand guidance.
- Rear camera sucks! Overhead camera terrific.
- Walking up to car with side mirrors folding out and handles popping out. Such a neat experience. The car greets you like a friend.
- Had an issue with Electrify America not doing plug and charge. They told me this was an issue on their end.
- I didn't buy any of the charging upgrades like Mobile Charger Connect. Don't feel I am missing out. Charging is super easy.
- My sales agent at my dealership has been just awesome through this whole experience. Track Your Dreams was disappointing though.
That's all I can think of for now. I am one happy owner and find excuses to go driving.