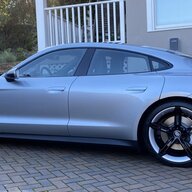 Joined

Jan 22, 2022
Threads
Messages
Reaction score

2,225
Location
Vehicles

2022 Taycan 4S

So, I just took my first road trip in the 22 Taycan 4S, which consisted of 450 miles each way and then a weeks worth of driving around the city in between. The car was pretty flawless and charging went okay, but at the end of it all I was struck with they feeling that the way we're going about building out the public charging infrastructure in the US is a joke and entirely wrong for supporting widespread adoption of EVs.

First, let me say that I went to 5-6 different charging locations and charged about 10 times. All the locations had at least 75% of the chargers working, though charging rates were a fraction of the supposed capacity. That said, most of my charging was around 80-90kWh, with one station at 100-135 and one at 25. I left the 25. All were EA, save for one, which was an EVGO station that I used when the EA place was full. Generally, it all went fine, Plug and Charge worked every time, and I found that anything above 85kWh was acceptable for me given the need for a driving break anyway.

That said, the locations of the chargers are a joke for supporting anything but a novelty level of EV adoption. There is no way that we could support high throughput of vehicles with a few stalls in back of the bank, or in the back corner of a truck stop, or in the drive through at In and Out Burger (where the queue of cars in the drive thru block the spots!). I was sitting at the EA charger at the Walmart in Santa Clarita (4 chargers) looking at the 150 cars in the parking lot and imagining if just 10 percent of them switched to EVs. And we all tried to queue up, in the middle of a Walmart parking lot, with the chargers in parking spaces. Just a fucking joke.

If we want mass adoption of EVs, we need the charges installed on major highways and byways, not in back of a bank in the middle of downtown four miles off the freeway. And the facilities need to be drive through, like a gas station or truck stop, where we can queue up.

As good as the car performed, what this trip convinced me of is the need to continue to own an ICE car as well so that I never have to rely upon the public charging infrastructure except in rare instances. Doubt I'll be taking the Taycan on another roadtrip for a long time.

Oh and an aside, the hotel that I stayed at had a Clipper Creek L2 charger for visitor use, but it was totally knackered. Definitely not up to commercial use.