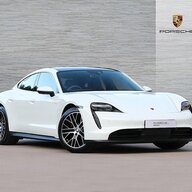 First Name

Troy
Joined

May 19, 2021
Messages
Reaction score

32
Location
Vehicles

Taycan, Range Rover, BMW X5

Looking for some advise on how best to repair this bumper ding.
Over the weekend someone did this hit-and-run on me. There are a few scratches and small indentations on the front bumper. I've taken it to a couple of body shops for estimates. Both shops want to remove the entire bumper for the repair and paint. Estimates range from $500-$1,000. But they are telling me that removing the bumper will also require all the sensors to be recalibrated by either Porsche or the shop's third party. I'm hearing estimates to recalibrate are another $500-$1,000. I'm also somewhat reluctant to have the bumper removed for fear that that might result in other issues (like pulling a thread on a sweater).
Another shop said they could cover the car, repair the damage and "feather in" the paint and clear coat without removing the bumper. But I'm hearing that this could result in pealing later. If I applied PPF on the bumper afterwords (which I was intending to do before this happened) this seems like it would solve the potential pealing issue.
What initially seemed like a small ding to fix now seems to be a bigger decision given all the electronics involved in the front of the car.
Appreciate any thoughts on this.
Thanks.