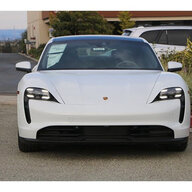 Joined

Dec 3, 2020
Messages
Reaction score

753
Location
Vehicles

2020 Taycan 4S

Here is what to do:
1) Park the vehicle in a flat surface
2) Before you jack up you have to disable suspension self adjustment (for Air Suspension). The adjustments is reenabled automatically once you start driving, so do not move the car after you disable this
PCM > Settings > Vehicle settings > Additional chassis settings > Deactivate chassis adjustments to use a jack (check the box)
3) Open the frunk and find the wheel lock under the black cover on the driver side tool box
4) Jack the car up
5) Porsche recommends replacing high performance tires instead of patching them. You can decide if you want to pay $400-500 for a new tire or $20 to patch it.
6) Put the new or patched tire back.
7)
Torque the wheel nuts to the proper torque
. My manual says 118 lb-ft (or 160NM), but verify that is the correct torque for your car.
8) Put the wheel lock back to the tool box and place the black cover back
9) When you start driving you might get a red "Check Tire" warning if the tire was physically taken far away from the car for the repair. The warning will self-clear after you drive the car for a few seconds and the car is able to get a pressure reading from the sensor.
Last edited: