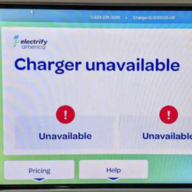 Joined

Jun 8, 2021
Messages
Reaction score

121
Location
Vehicles

2021 Taycan Turbo S

I was charging my TTS at an Electrify America in Las Vegas (Outlet Mall, south strip) and got to talking to the driver of
another
Turbo S with specs almost identical to my own. Turns out he's part of a Lucid test team. Another member of his team was chilling in the parking lot waiting on him.
His team's mission was to drive some Lucids and Taycans from San Francisco to Las Vegas, switching drivers periodically, noting the pros/cons of each vehicle, testing certain features, etc. Sounds like kind of a fun job for young guys. A few interesting takeaway points from the conversation:
The fellow I chatted with found the Taycan more fun to drive.
I asked which of their upcoming offerings would most closely match the Turbo S, and what are the specs. He said their test car will do 0-60 in low to mid 2's and will run about $170k, but that price could change.
The team was able to easily get 500+ miles on a single charge for the Lucids. They only had to do one Lucid charge on the trip whereas the Taycans required several.
I told them when the time comes to ally themselves with a charging network, they should choose anyone other than Electrify America. He agreed EA is highly unreliable and hates them too but unfortunately, the powers that be at Lucid are setting up some kind of deal with EA.
I had never seen a Lucid before. My personal opinion is that it's not a very attractive car. I doubt I'd want to own one. That said, maybe they're incredible to drive so I should probably reserve judgement.
I friggin' love my TTS but realistically, the way I drive it (Sport Plus, relatively hard acceleration), I'm only getting 175-190 miles on a charge. I knew range sucked going in so whatever, but I guess I didn't really grasp the full extent of how limited the Taycan's range is compared to competitors. I'm not sure what Lucid is doing with their batteries but if they're legitimately getting 500+ miles on a charge, they're in a league of their own.