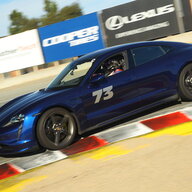 First Name

David
Joined

Jan 28, 2019
Threads
Messages
Reaction score

5,982
Location
Vehicles

Taycan, Cayenne Hybrid, 911(s) GT3/Convertable

https://www.yahoo.com/news/fact-check-electric-vehicles-put-093308278.html
Concerns that electric vehicles could damage the grid, he emphasized, are misplaced.
…
it would still make up only 1.5% of the power grid's capacity.
I've always felt/believed/analyzed the following…
if you're saying the grid can't handle EV's - you're saying it can't handle electric appliances - since a home EVSE is really no different than a electric appliance
refining gasoline is one of the _MOST_ electricity intensive things we do as a society - it takes 6 kWh per-gallon of refined gasoline

as you consume less gasoline you free up existing grid capacity

even as EV's eventually 'stress' the grid over time upgrading/improving the grid is not a bad thing and probably necessary anyways - if anyone thinks the grid is static, and not going to evolve then that is unrealistic in my opinion - it's a net good thing to improve the grid and benefits all of society and is necessary with or without EV's in the picture.
but those are my biases and beliefs - but the article was interesting to me personally