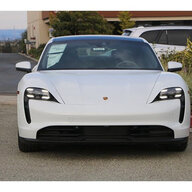 Joined

Dec 3, 2020
Messages
Reaction score

879
Location
Vehicles

2020 Taycan 4S

Some background
My Taycan's passenger door and the passenger side rear door rattle badly. I have taken the car to the dealer and they said the passenger door ratted from the light strip. They put foam tape around the strip wire harness which fixed the issue for about two weeks but the rattle came back.
The dealer was wrong, the root cause was not the light strip itself.The reason why the rattles went away temporarily was not the foam tape. It was because they removed and reinstalled the panel.
The root cause
The root cause is the poor fit of the door panel and the fact that it is not held tightly with screws or plastic rivets.
There is a significant gap between the panel and the door chassis, and the door panel can move and rattle. When I push in the panel with my hand it moves and rattles. This happens in 2 of the 4 doors!
My fix
I squeezed some foam between the panel and the door chassis and eliminated the movement of the panel.
All rattles are gone. I used foam used for childproofing furniture
and plastic upholstery removal tools. I will carefully trim the foam to make it flush with the panel so it will be less noticeable but I wanted to take the pictures before trimming.
It is unfortunate that I have to do this in such an expensive car but it is better than the rattles that drive my crazy. It is also easy enough and it can be done without removing the panel.
Now I can only hear the B-pillar and the driver seat rattles..
Last edited: