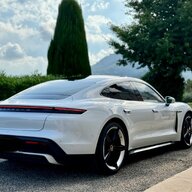 First Name

Peter
Joined

Nov 3, 2019
Messages
Reaction score

1,215
Location
Vehicles

Taycan T, Tesla M3P, Aston Martin DB9, Porsche 996 C4 Cab

All that (and more I'm sure) for what, maybe 10,000 VW, Audi, and Porsche EVs which don't have plug-and-charge? My guess the ROI is not there for EA. I'm not arguing this is the right thing, because it does suck for early adopters, but just saying that realistically non-plug-and-charge cars may get stuck with how it works today forever if plug-and-charge solves the usage problem and majority of cars on the road will have it. I think your biggest hope here would be that they fix the activation via the app to become reliable.
I agree fully with you that Plug and Charge is the best way forward.
When I mentioned the RFID tags, I based that on Kyle from Outofspec experience here in Europe. He could not get the different apps etc. as I understand it, due to his US registered phone and App Store? Thus he mentioned his use of Plugsurfing tag. I mistook the Plugsurfing tag to be of US origin, which I now see is an European product.
Plugsurfing claim to have more than 250000 charging points in their network. They only provide the platform for charging and billing, not the actual stations etc. It works really well, but at a cost. Unfortunately the systems here in Europe are very fragmented at the moment, so you have to pay a substantial premium for having access to such a broad network. For example through the Porsche Charging service you pay 0.33 Euro per kWh at Ionity. Via Plugsurfing or other services you will pay about 0.88 Euro per kWh. Ionity are charging other cars 0.79 Euro per kWh, so Plugsurding add about 10% margin on the price they are charged from Ionity.
https://plugsurfing.com/
So what I mean by this is that the backend systems for administration and billing do exist and are working. And nearly all public charge points here in Europe seem to have RFID readers as well.
The next challenge will be to break down the Walled Garden approach. It just has to get to be as simple to charge an EV as it is to fill an ICE tank! We are not there yet, but I am sure that will happen.