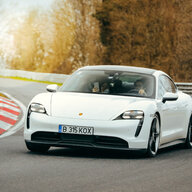 First Name

Ciprian
Joined

Jun 29, 2021
Threads
Messages
Reaction score

116
Location
Vehicles

Taycan RWD PB+

Hello guys!
As I promised, here is my Nürburgring lap report
Car: 2022 RWD PB+ Sport Chrono
Luckily for me, the track was very empty and I was so happy for this since it was my very very very first lap on a Track of any sort. I do a lot of karting which obviously helped with some lines.
car felt really good on acceleration but it definitely lacks power. It complements for mind bending handling. Steering is very precise, it feels like on rails. Until you remind of tire wear.
You, as a driver, you don't really feel the weight, but your tires do. After just one lap, the tire was warm to the touch and it started ripping. I would happily rip them if I lived 10 km away or having a new set of tires.
14way adjustable seats aren't ready for lateral G forces, I'm not a really big human being and I was kind of flying around the car, but I think 18 way could be better.
Rear wing is just.. magnificent. It lifts immediately and I don't have the ability to feel the difference wing vs no wing, but it looked so cool!
all in all, no YouTube video will describe you how compressing zones feel in your heart, or feeling like you're flying over the straights, so I definitely recommend at least renting a car from apex or rsr to do a lap.
i did that and I can't describe how big the difference is. i've rented the M4 from apex and I couldn't belive my eyes how much weight and tires contribute to a better performing car.
i also did a video on Youtube with the Taycan Experience on Nürburgring, if you have the pleasure to watch.
My Emotional First Nürburgring Lap In The Porsche Taycan!