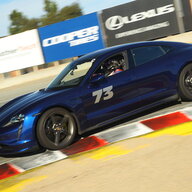 First Name

David
Joined

Jan 28, 2019
Messages
Reaction score

3,193
Location
Vehicles

Tesla(s), 911 GT3, Boxster S, Bolt, Taycan, Cayenn

seriously - if you claim to be a car person - one should at least consider the competition - now I'm not saying it holds a candle to the Taycan - but put down your biases - and put yourself in the mind set of new car - less than $50k - and I'll review what's available…for my money it's the best 4 door mid-range sedan on the market right now - and blows away anything in it's price class - that doens't mean it's perfect and the are pro's/con's - but seriously I'd rather have it than anything else in the 40-50k price range.
and the preformance model for less than $60k out the door - is seriously hard to beat - have to get a Taycan turbo to be as quick.
again not perfecct, not saying it doesn't have con's - but compare it to any similiar 4/6 banger in the same price zone and I think it's hard to not seriously consider it.