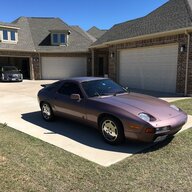 First Name

Jim
Joined

Jul 24, 2021
Messages
Reaction score

35
Location
Vehicles

2020 Taycan 4S, 2013 CTS-V Wagon (M6), 928S4

First thing to note is that my ID is at least partially due to my inability to type on a touchscreen—I intended the last character to be a "1" instead of the "!".
I ordered my Cross Turismo thru Luke Manning at Grapevine Porsche who was very helpful in guiding me thru the financial minefield that is Porsche optional extras. Here's my build which is daily driver oriented. In one of life's odd coincidences, Luke called me a few days after I ordered my car and told me that there would be a Cross Turismo at the dealership and it turned out to be a preview of my car (same color and wheels). The Smoking Package is so that I can get that cool little ashtray cup so that I have somewhere to throw change—I don't smoke unless I'm on fire.
PNU7GP25
http://www.porsche-code.com/PNU7GP25
I placed my deposit on July 22nd, and was told to expect my car "late 4th quarter".
I'm a long time Porsche owner (1987 928S4) and I have another fast wagon in the garage (2013 Cadillac CTS-V wagon with a manual transmission) so this is kind of a hybrid of the two!
Last edited: