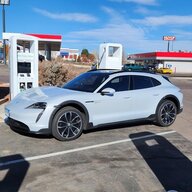 Joined

Jun 17, 2020
Messages
Reaction score

427
Location
Vehicles

2021 Taycan 4s, 2019 e-hybrid Cayenne

So, today I took a 400 road trip through the Colorado mountains to see how the car behaved after the 12v battery replacement and software updates I received last week.

Mechanically, the car preformed without any issues, but I received repeated electrical system errors on the dash when I would start the car back up after stopping and shutting off. The vehicle alternated between showing warning screens that the vehicle was experiencing electrical issues and I needed service, and the vehicle was experiencing electrical issues and that I needed to pull over and have the vehicle serviced immediately. This happened 6 or 7 times today - basically, every time I stopped some where and turned the vehicle off. I was able to clear the warnings by then turning off the car again and waiting for a minute or two before turning back on.

After already having the car in the shop for two weeks while waiting for a replacement 12v battery, these new issues are extremely frustrating. I will call the dealership tomorrow, and schedule time to have the car examined again, but dealing with this electrical issue is starting to get real old.