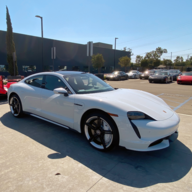 First Name

Wiley
Joined

Nov 23, 2019
Messages
Reaction score

168
Location
Vehicles

Porsche 911 [now sold], Porsche Taycan Turbo [September!], Audi allroad, VW e-golf, BMW i3

Not sure if this is the right sub-forum, but here goes:

There's a strong possibility that I'm going to have to leave my Taycan in my garage at home for about two months while I'm out of the area. I'm concerned about the effects of storing the car for that long without driving it. Does anyone have experience/suggestions for what I should be concerned about and what I can do to mitigate those issues?

I've generally heard that it's a good idea have the high-voltage battery at around 50%, so I figure I'll start there.

What I'm really worried about is the 12V battery. The owner's manual says that it needs to be charged every six weeks minimum, and I will be gone for 8 weeks. It also says that you should trickle charge the battery if it's low, but also says that if you're 'laying up' the vehicle for a long period of time, you should close all of the doors, trunk lids, etc, which makes trickle charging impossible...