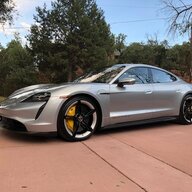 First Name

David
Joined

Sep 11, 2019
Messages
Reaction score

1,048
Location
Vehicles

Porsche Taycan Turbo S, Audi E-tron

I'll admit, I'm very interested. I have a reservation for a Air Grand Touring (800hp and 500+ miles of range). In theory this would be faster and more luxurious than the Taycan, way better range and tech, but might not live up to the Porsche driving experience. However, as stated in the article the Air drives like an ultra luxurious Nissan GTR Nismo. Better than I expected.
https://www.motortrend.com/reviews/2022-lucid-air-dream-edition-r-exclusive-first-drive-review/
"The rear motor of the Model S weighs 295 pounds and produces 430 horsepower, for a power density of 1.46 hp per pound. The Air uses the same motor front and rear; each weighs 163 pounds yet makes 670 horsepower (and spins at 20,000 rpm) for a power density of 4.11 hp per pound. That's nearly three times better. Also, unlike Tesla, Lucid bothered to put a proper interior in its car."
"The interior is another matter entirely. Wow. Whereas every Tesla since day one has seemingly shipped without a finished interior, Lucid not only crafted a perfectly wonderful luxury-car cabin, but it also smartly avoided the screens über alles aesthetic that plagues cars like
the Mercedes EQS
."
"This isn't just a great interior for an electric vehicle—it's one of the nicest interiors in the car world."
"The Lucid Air Dream Edition R reminds me of a Nissan GT-R, especially one of the NISMO GT-Rs........I assumed the Air Dream Edition R would be decent enough to drive around big sweepers, but about 10 miles into our run up Angeles Crest Highway, I discovered the car enjoyed being manhandled through tight corners. The harder I pushed, the better the Lucid Air got. It leaps and bounds out of corners, much like the way a NISMO GT-R behaves."
"Once we arrived, my limo still had 30 miles of range on the clock, and Rawlinson's car amazingly had 72. This meant my 2022 Lucid Air Dream Edition R had the potential to go 475 miles, whereas Rawlinson's could have traveled 517 miles on a single charge. That's a gauntlet dropped at the feet of you know who. Also, remember range anxiety? As with the internal combustion engine, it's a thing of the past."