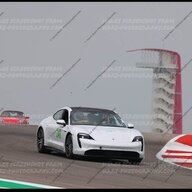 Joined

Sep 6, 2021
Threads
Messages
Reaction score

840
Location
Vehicles

2022 Taycan 4S

This was my first HPDE, which was put on by Porsche Club - Hill Country and Porsche Club - Maverick - taking place over 2 days (yesterday and today) at Circuit of the Americas. All were invited as they're not exclusive to PCA, so there were a good number of BMWs, McLarens, Corvettes, a Lotus, etc. A total of 4 hours of on-track time at COTA - 4-30 minute sessions yesterday and 4 more today. I am a beginner, so I had an instructor in my passenger seat. He was a very experienced amateur racer and a longtime instructor for the Porsche clubs. Great guy - sold his company, retired early and has 9 cars. I can dream.

The Taycan 4S was the only EV in the whole field. The beginner class was about 15-20 cars - mostly Caymans and Boxsters and a few older 911s, but a couple of new GT4s, a 991 911 Turbo S, a very fast 992 GTS and a very fast 1988 Rothman 944 Club Car (fittingly driven by a Canadian in a full track suit... I'm thinking maybe not really a true beginner). The Taycan hung in really well with all of the cars outside of the 992 GTS and one of the GT4s. As everyone says, it is heavy, and if you go in late and try to correct the car will not take kindly to it. Lots and lots of tire squeal, but I always felt very confident and had a ton of grip whenever I needed it. Car turned in great, never got bent out of shape and the instant torque made up for lots of mistakes when I needed it. Outside of that GTS (which blew me away) and the GT4, which I kept pace with, I was easily able to pass just about everything else in the straights. Felt a bit like cheating.

The only downside - if I can call it that give how much fun I had - is that the charging infrastructure sucks. And that means less time on track and more time stressing about charging and getting back to the track in time for your call. I was only able to make 6 of the 8 sessions, owing to the scheduling of when they occurred. I pretty much needed an hour and half conservatively between sessions to get to the airport where there was a single, lonely 80KW charger that I sometimes had to wait to use. Of course, today that one was also inoperable , so between sessions I had to trek to downtown Austin to find a fast enough charger to get me back up to 90% so I could drive on course and then get myself home afterward. I had to skip the last session because I didn't want to get stranded out there. Due to the way they scheduled the sessions yesterday, I was able to make all 4 - luck of the draw. COTA should have a high speed charger or two... but it seems they have no interest in supporting EVs at this time.

People were very curious about the Taycan still. My instructor noted that he had a hard time knowing how fast we were going at any given time owing to the lack of audible and physical cues, and for a while I had the regen active in Sports Plus, and that messed him up because he'd feel the brake but saw I wasn't on it. Today I just went with individual sport and took off the regen, and I think it helped me be more smooth.

If I had my way, I'd do this again and again until i was really good at it. Maybe the most fun thing I've done in a very long time. I don't know if I'd take my Taycan back to an HPDE owing to the charger situation and because of the wear and tear... my preference would be to get a dedicated track car at some point or at least another car I wouldn't mind banging around it. Maybe something slower that rewarded better technique at first, as the Taycan's speed makes up for lots of bad form.

Big thanks to PCA of Hill Country and PCA - Maverick - really well run event and super nice, supportive people all around.
Last edited: