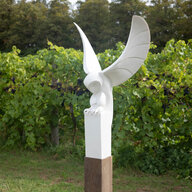 First Name

Frank
Joined

Aug 19, 2021
Threads
Messages
Reaction score

4,099
Location
Vehicles

Taycan CT4S, Ferrari 355, Merc 500E, Prius PHV

I copied this from my post on tyres…
Seems like it should be here.

I have never kept meticulous records of car costs so don't have a comparison from other cars.
I did my first long trip yesterday.

It was before regen has clicked in so not expecting much efficiency and thats what I got!

The first half of the journey was motorway at legal speed and 49kWh per 100 miles ~ 1.9 miles /kWh
The second half in traffic and fog the overall crept up to 2.2 mi/kWh average. 226 miles in 5:12 driving, average 45 mph. A bit worse than I had hoped but I had planned for the worst. Temperature between -1.5 and 3 C.

My first charge away from home started badly when my RFID card didn't work. It was at a Porsche centre so they checked all the possibilities for me and stayed baffled so were in touch with Porsche GB and ordered me a new card.

Whatever they did this morning the RFID card number showed up I'm My Porsche, so whatever they did worked.
They were super helpful but I ended up spending over an hour there.

Anyway the car is great in every way.