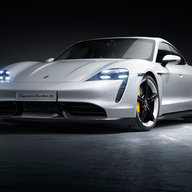 Joined

Jan 4, 2020
Messages
Reaction score

139
Location
Vehicles

Porsche Taycan 4S, Hyundai Kona EV, Ducati Multistrada GT

So some more random musings and observations as I get more "stick" time. Please keep in mind I have never owned a Porsche (so some behaviours are new to me) and still haven't even started looking at the manual (just looked up a few bits and pieces):

The good:
- I am starting to "get" the Porsche driving experience. Best I can describe it is "surgical."
- The InnoDrive is a gem and not pushed enough. I have used the Tesla "Auto Pilot" and with limited time I trust InnoDrive more and it handles most road conditions with ease. And is much smarter in how it drives behind cars and even through roundabouts.
- Again interior fit and finish and UI, specially at night with interior ambient lighting, amazing feel. This is very important to me, not too much bling, not too much (like some of the new Audis), just right.
- Great cupholder. Not for size, but for holding your mug while you do monumentally stupid things...

The "worse"
- The UI locks out too many things while driving. Ok I get it, safety. But some minor things are not available while moving, including setting the interior ambient brightness. I mean come on, I am supposed to stop on highway and adjust if interior is too bright?
- CarPlay also locks out picking artists and with Siris brain dead decisions this is a big problem. Other cars don't lock out CarPlay as much.

The "ugly"
- The Navigations has no integerated charging point selection! WTF! It does however have gas stations listed...I hope this gets remedied. Even CarPlay detects and electric car and replaces Gas with Charging Stations.

I just gave some of the employees at the BMW place a ride while explaining how BMW started with the I division and then threw away their entire lead in EVs...
Do you have the "Porsche Intelligent Range Manage" option I believe you need that to see EV charging locations on the basic navigation system