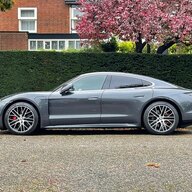 First Name

Pieter
Joined

Jan 15, 2022
Messages
Reaction score

0
Location
Vehicles

Porsche Taycan 4S, Land Rover Discovery HSE
Dear fellow Porsche drivers,
Late last year, I purchased this low-milage (< 6000 KM) Taycan 4S in vulcan grey.
It came equipped with what I would call the "basic luxury necessities", such as panoramic roof, Bose stereo, heated seats, power steering plus, ambient lighting, Porsche puddle lights (or whatever the hell they are called), lane assist and 20 inch Turbo Aero wheels.
The driving experience I find nothing short of amazing, with plenty of power and amazing ride comfort thanks to PASM (even better than my previous car, a 2018 Audi A8). However, the car came equipped with standard (partial) leather only so that there are many cabin parts which are plastic rather than leather covered, giving the cabin a bit of an austere appearance compared to the rather opulent cabin in the A8.
Therefore, I have commissioned a Porsche approved refitter to redo the entire interior in original Porsche nappa leather with double stitching (center console and lower side dashboard were already done, see attached picture).
Please could you answer my two questions:
1) in a Taycan with full leather upholstery, would the seat backs be covered in leather also ??
2) I find the quality of the Porsche stereo a bit disappointing (it seems to suffer from midrange suck out and thinny bass), is there a way to upgrade the speakers (non OEM is fine) and, if so, which speakers would you recommend ?
Thanks for looking !
Cheers,
Pieter