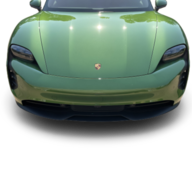 First Name

Jeremy
Joined

Feb 9, 2021
Threads
Messages
Reaction score

3,685
Location
Vehicles

2016 Macan S; 2021 Taycan 4S; 2023 911 GTS Cab

I know this comparison has been covered numerous times before and I'm probably not noting anything 100 other people on here don't already know, but I'm adding my perspective anyway.
Background
I have both a 2021 Taycan 4S and a 2023 911 GTS Cabriolet 7MT (manual).
I had the Taycan for around 2 years/25k miles before taking delivery of the 911. The Taycan is my wife's DD (I drove [still sometimes drive] a Macan S) but I put about 1/2 the miles on the Taycan driving evenings and weekends.
I took delivery of the 911 in July of this year and put a little over 12k miles on it in the last 3.5 months, over which period I didn't drive the Taycan
at all
. Absolutely zero Taycan driving.
Well, the 911 is in the shop getting the the front bumper replaced so I started driving the Taycan again yesterday. Having a several month long lapse in driving it and coming back gave me some thoughts that I'll put in no particular order below.
Driving Position
I have 14-way ventilated/massage seats in the Taycan and 18-way RaceTex in the 911. I've read that the Taycan seating position is similar to the 911, however, I immediately noticed how much higher I was sitting in the Taycan. It's not nearly as high as my Macan, but still noticeably higher. Note that I always lower my seats as much as possible in all vehicles.
Actually, looking back, I was a little worried I wouldn't like the 911 seating position because I kept reading this comparison, that they're similar, and didn't feel like the Taycan was low enough. But I think there's a noticeable difference.
As a result, Taycan ingress/egress is much easier (even with the B pillar placement). I don't find the 911 difficult in an absolute sense. Just more difficult relative to the Taycan (which is more difficult than the Macan). Overall, I prefer the 911.
Door Weight
Probably to be expected with 2-door vs 4-door sizing, but the Taycan doors immediately felt much lighter opening, particularly pushing open from the inside. Perhaps I am too feeble to own a 2-door car.
Torque
I'm sure I don't even need to cover this, but Taycan jerk is substantially more than the 911. I still love slamming the accelerator pedal in sport mode around 40-50 mph (close to 65-80 kph , in Canada
), and feeling that jerk forward. The 911 is fun for its own reasons, but it simply does not do this the way the Taycan does.
Sound
I'm putting sports cats on the 911 this winter, and possibly a different cat-back exhaust after that. That's after I've already put on a valve controller to keep the valves open and already have PSE. More/better sound is a goal and part of the drive.
I thought I'd miss this driving the Taycan, but I don't. My Taycan has the optional thermal and noise insulating glass (...contrast that with the cab, which has very little noise insulation with the top down
).
But the lack of sound almost feels like as much of a goal in the Taycan as the presence of sound does in the 911. It's not necessarily worse as I was expecting. Just different.
Interior Control and Ergonomics
A number of small items to cover here.
Volume Control
- I really like having a regular volume knob in the 911.
Diamond Buttons
(and friends?) - I only have one diamond button on the 911 because I optioned Front Axle Lift which takes the place of the second diamond button. And the one I have is on the steering wheel, so not always quick to find when my wheel is turned. This is set to park assist cameras because I use that option the most, which means homelink is only on the PCM, buried in a menu. It does come up based on geolocation, but not as early as I like. I'd have to set the geolocation 3 time from different routes to my house to expand it though.
The Taycan, on the other hand, has two diamond buttons all of the time (I'm not aware of any options that remove one), and the park assist cameras are on their own separate button on the center console. I have the instrument cluster diamond button set to homelink so it's in a consistent place also. So, homelink and park assist end up much easier to access on the Taycan.
HVAC
- I prefer the physical controls for temperature, fan speed, and auto setting on the 911...however anything that isn't on those physical controls has to be accessed under a PCM menu, which is a pain while driving. Things like "sync" on the dual zone climate control or the air recirculation are ones that I use often enough that I'm annoyed by having to access that menu when they are front and center in the Taycan.
PCM
-
It's probably enough to say that I was never annoyed by the PCM menus on the Taycan because I basically never needed to use them. I have to occasionally use them for a couple of functions on the 911 and now I hate them.
But a link below to my glowing review of the Taycan PCM.
https://www.taycanforum.com/forum/threads/help-i-accidentally-liked-the-pcm.5750/
Fun
This is subject, of course, but I can tell you my kid only looks like this in one of the two cars*.
*In the other car, he looks like a banana.
I'm kidding.
That would be weird.
----------------------------
That's it for now. I won't get into other things regarding gas vs recharging. I've probably beat that drum enough. Suffice to say I've driven the 911 2000+ miles from home while the Taycan has never been more than 125 miles from home (....at least not since delivery). And when used in those manners, for me, they each serve their own purpose very well.
I'm glad to have both cars.
Pics For Attention (including the poor Macan that doesn't get as much love as it should anymore).
Last edited: